Fun and Healthy
Gresham's Summer Kids in the Park program
6/10/2015, 12:15 p.m.
Summer Kids in the Park is back for another summer of fun and healthy activities in Gresham's largest parks.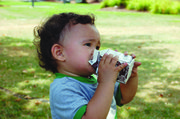 The 10-week program opens Monday, June 15 and is free and open to all kids under 18, running for two hours every weekday at Main City, Vance and Red Sunset parks. A free lunch will be served, and kids can just drop in. No advance registration is required.
"For kids, there's nothing better than playing in your neighborhood park and having a great time. We're grateful to have the leadership of the Boys & Girls Clubs back mentoring youth this summer," Gresham Mayor Shane Bemis said.
In 2014, the city, the Boys & Girls Clubs of Portland Metropolitan Area and the Gresham-Barlow and Centennial school districts came together to bring summer youth programs back to Gresham parks. The program served an average 91 children a day for a total of 3,553 repeat visits, and earning good reviews from families and kids.
Boys & Girls Clubs staff will again lead a variety of activities, including arts and crafts, science experiments, and field games. Staff have also organized special events and guest appearances from the Portland Winterhawks, the Oregon Zoo's ZAP! Team and more.
The Summer Kids in the Park schedule for Main City Park, 219 S. Main Ave., is Monday through Friday, 11:30 a.m.-1:30 p.m.; for Vance Park, 1400 S.E. 182nd Ave., it's Monday through Friday, 12-2:30 p.m.; and for Red Sunset Park, 2403 N.E. Red Sunset Drive, it's Monday through Friday, 12:30-2:30 p.m.