Rose City Showcase Tips Off
Tournament opens Friday for top basketball prospects
6/11/2015, 4:43 p.m.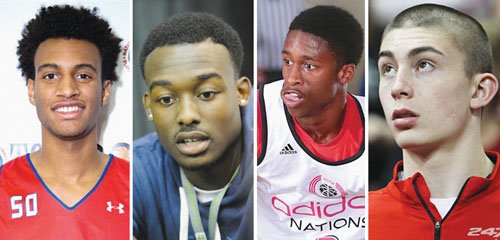 The Rose City Showcase, an official Rose Festival basketball tournament organized by Portland's Courtside Entertainment and sponsored by Nike tips off Friday, June 12 at Lewis and Clark College in southwest Portland.
With games over three days to Sunday, June 14, the Showcase will once again feature the nation's top grassroots basketball players. The community is welcome to attend the many match-ups, catching a glimpse of future college and NBA stars of tomorrow.
Before Dwight Howard became an NBA All-Star, before Josh Smith and Gerald Green won the NBA Slam Dunk Contest, before O.J. Mayo, Michael Beasley, and Kevin Love became All-Americans and before Brandon Rush and Mario Chalmers led Kansas to the 2008 NCAA Championship, they all had one thing in common - they participated in the Rose City Showcase.
Opening night with feature four power-packed match-ups, featuring an abundance of elite national talent from the classes of 2016, 2017, 2018 and 2019. Some of the players include Payton Pritchard , Kobi Simmons, Josh Langford, Braxton Blackwell, Zach Collins, Daron Henson, Evan Leonard, Rylan Bergersen, Lamar Winston, Kolby Lee, Sam Bittner and Jermain Haley.
Feature games will be played at Lewis and Clark College. All other Ladies' and Gentlemen's divisional games will tip off Saturday morning at Lewis & Clark College, Beaverton Hoop YMCA, Jefferson High School and Benson High School. For maps and detailed schedules visit rosecityshowcase.com

A portion of the proceeds will benefit Portland Inner City Players Athletics, a local non-profit "Providing a foundation for student athletes to succeed personally, academically and athletically." For more information, visit InnerCityPlayers.org or contact Canaan Chatman at 503-381-3215 or email canaan@courtsideentertainment.com.