Viking Pavilion in Building Phase
6/16/2015, 3:56 p.m.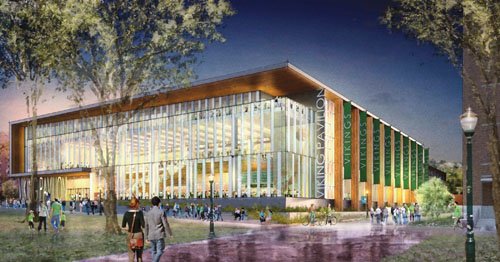 Portland State University has finalized a contract to build the Viking Pavilion and Education Center at the south end of the PSU campus. Groundbreaking is scheduled for January with completion expected by early 2018.
The building will be a massive renovation of the Peter W. Stott Center, which has served as a health, physical education and athletics facility since it was built in 1966. The new building will have 30,000 square feet of studying, tutoring and classroom space. It also will have a new 3,100-seat pavilion for public events, including lectures, concerts and athletic games.
The contract with Fortis Construction, Inc. was approved May 22 and is worth approximately $32 million, officials said. Preconstruction services have begun. The building will be used by both PSU and Oregon Health and Science University, much like the Collaborative Life Sciences Building on Portland's South Waterfront. OHSU is contributing $7.5 million to the project. Another $24 million will come from state bonds. The remainder will be provided by private donations.