Being Black; Rachel Dolezal; and Charleston
Jagger Blaec | 6/23/2015, 2:54 p.m.
A man on Twitter once said, 'I have a dream…that I will live in a world where white people care about black people before Jon Stewart tells them to.' That man was Clint Smith, poet, activist, and PhD candidate at Harvard University.
This is my current situation. The white people in my life just don't care. My fiancé is white and he doesn't want to hear it anymore. He told me he's tired and asked me if we have to discuss race every single day. My best friends are all white and they have been radio silent for the past year for every single shooting of an unarmed black man, for every utterance of #BlackLivesMatter, and even recently within the last two weeks where racial identity and relations in America have seemed to boil over.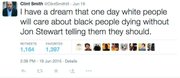 But what exactly do I expect? These are the same people I spent my adolescence pretending not to be black. Hiding my natural hair under weaves and braids not to protect my coif, but to protect me from what I assumed would be ridicule and rejection in opposition to the European beauty standards my friends all replicated.
I grew up in a predominantly white suburb and at times as the only "Black Girl In Suburbia" I wore my "token black girl" status as a badge of honor. People in my small town of Monroe, Conn. were used to me and despite being visibly black I was often referred to as an "Oreo" and told I "sounded white."
For 20 plus years I was comfortable with this position. Until just recently I left my comfort zone to move to a place that, unbeknownst to me prior to living here, is often referred to as "Whitelandia" or "Whitetopia."
I came to the Pacific Northwest, Portland, Oregon. When I moved to southwest Portland it was nearly three weeks before I had seen, let alone encountered another African-American. I began to fear whether I would ever see anyone who looked like me again. Although I grew up around white people this was something totally different. Because I had always been able to assimilate with my white friends I never imagined the way I looked would be a factor in how people interacted with me. People I met were never overtly racist but they seemed strangely uncomfortable and I honestly couldn't figure out why. Never before in my life had I been so hyper aware of my blackness. Before moving here I was familiar with several local cities that had beautifully diverse populations outside of my own hometown. I had never seen a metro area be so overwhelmingly white.
So here I am. In a place where I had never really specifically defined my racial identity and it felt as though I was having it defined for me. Despite my previous experiences, I find myself faced with just how difficult it is to adjust to being black within a white space all over again.
In the Pacific Northwest, I am merely a few hours away from Spokane, where the now infamous Rachel Dolezal was able to fool the world into thinking she had what it takes to easily be a black woman.