Good in the Hood
Multicultural festival kicks off Friday
6/24/2015, 2:39 p.m.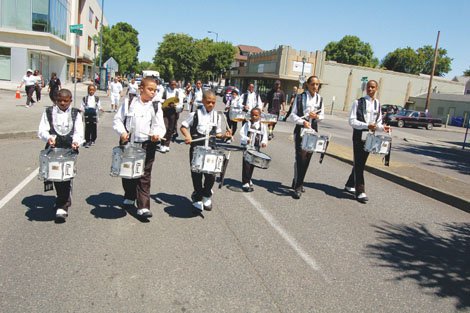 The Good in the Hood annual celebration of multicultural music and food is coming to Lillis Albina Park this weekend.
The festivities kick off Friday with a "Good Neighbor Night" party, featuring DJ Pryce and a surprise live band. The annual Good in The Hood Parade is held Saturday, starting at 11 a.m. from King School Park via Northeast Prescott and Martin Luther King Jr. Boulevard to Lillis Albina, located off North Russell Street.
At the park, visitors have the chance to meet the University of Oregon Ducks mascot, and the university's jazz band, which will be playing live. Community members can enjoy an ethnic food market place, a beer and wine garden, a kids' space, and live puppet shows and games. Legacy Health Systems will be hosting a $6 bike helmet sale throughout the day and their pavilion with also offer free health screenings to visitors until 6 p.m.
Finally, on Sunday, the Portland Timbers Street Team will welcome performances by Klyntel, Surround Sound, Andy Stokes, the Norman Sylvester Band, the Kirk Green Band, Randy Starr & The Players, the On-Q Band, The Parliament Funkadelic Tribute Band, Brandon Foster, Kimberly Holy, Lloyd Allen, Ben Jones & Friends, the Soul Commanders, Steele Family, and the University of Oregon Gospel Choir, among other featured performers.
This year's Good in the Hood Festival Grand Marshall will be former Sen. Avel Gordly. Those interested in volunteering or learning more about this year's festival are encouraged to call 971-302-6380 or visit goodnthehood.org.