Special Tribute to B.B. King
Sylvester to open festival honoring Blues great
6/30/2015, 1:50 p.m.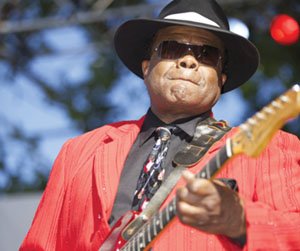 On Thursday, Thursday, July 2, at 2:15 p.m., on the opening day of this year's Waterfront Blues Festival, Norman "Boogie Cat" Sylvester will play a special set to honor his greatest Blues influence, BB King, who died this May just four months short of his 90th birthday.
Sylvester, a Portland Blues legend, was born on his grandmother's farm in Louisiana and was only allowed to listen to music in church and to his father's Gospel quartet that played sometimes on the radio. In town he could hear the Juke boxes playing BB and other early Blues players out of the Barrel Houses. Sylvester could tell the party was jumping on those back streets.
The Norman Sylvester Band opened for BB King in 1987 and again in 1991. Besides sharing the fact that they both have "Blues Stains on their Hands," Sylvester always gave tribute to the King of the Blues on Sept. 16, the birthday they shared exactly 20 years apart.
It's been a tough year of loss for our music community, but as Sylvester always says, "Music can heal the soul."