Preserving Our Cultural and Natural Heritage
We can take nothing for granted
Donny R. Adair | 3/10/2015, 2:24 p.m.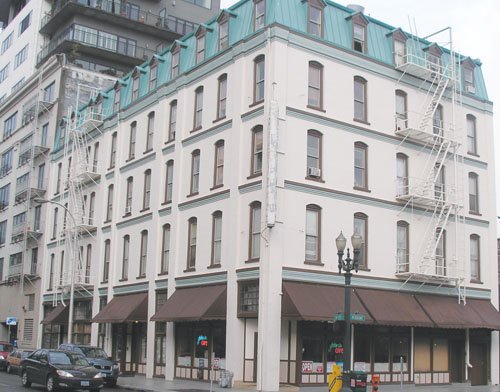 On the corner of Northwest Broadway and Everett Street in downtown Portland, the historic Golden West Hotel stands as a marker to the development of the African American middle class in Oregon – and the nation.
W.D. Allen, an African American businessman, bought the property in 1905, the same year Oregon officially became segregated. The next year, he built a hotel where African Americans could enjoy comfortable rooms, a candy shop, Turkish baths, a gym, and much more. Many travelers came to stay, including entertainers, businesspeople, and railway porters.
Some of these porters came from Chicago's Pullman neighborhood, site of the first African American union: the Brotherhood of Sleeping Car Porters. Many porters were former slaves. The Pullman porters contributed significantly to the development of the African American middle class in America, and the Civil Rights Movement. President Obama declared the Pullman area of Chicago a national monument last month, during Black History Month, using his authority under the Antiquities Act of 1906 – coincidentally the same year Allen opened Golden West Hotel.
The president has been proactive in establishing new national monuments that attempt to right-size the inequalities of the national park system. A 2014 analysis found that only 24 percent of our nation's national parks and monuments are dedicated to diverse communities, or commemorate minority figures or events. Of the country's 461 national park units, only 26 are focused on African Americans, 19 on Latinos, eight on women, and two on Asian Americans.
The Antiquities Act is a critical tool for preserving our nation's natural, historic and cultural sites. Sixteen presidents have used their authority under the law – half of them Republican, half of them Democrat – to protect everything from the Grand Canyon to the Statue of Liberty. Recently, President Obama established Harriet Tubman Underground Railroad National Monument in Maryland, Cesar E. Chavez National Monument in California, the Charles Young Buffalo Soldiers National Monument in Ohio, and the Honolulu National Monument in Hawaii. The Pullman Porters National Monument will be the fifth by Obama to recognize America's minorities. I am pleased the president will be designating the Pullman monument to recognize the porters' contributions to America.
I am also pleased the president is supporting our nation's public lands, working to designate places where Americans from all backgrounds can get aside. As an African American who loves to go outdoors hunting, fishing, hiking, and photographing our beautiful country, I also support his work to designate new national monuments in Organ Mountains Desert Peaks in New Mexico, San Gabriel Mountains outside Los Angeles, and the San Juan Islands in Washington. Public lands are vital to protecting access to the outdoors, and thus to preserving America's fishing and hunting heritage.
While the president's ability to continue preserving our nation's cultural and natural heritage seems secure, we can take nothing for granted. Already, in Congress' first two weeks in office, members introduced measures to revoke the president's authority under the Antiquities Act. These proposals did not pass, thanks in part to votes cast against them by Oregon's U.S. senators, Ron Wyden and Jeff Merkley. I am grateful Oregon has leaders supporting our president, and defending against the attacks on America's public lands.
I celebrated Black History Month in part by remembering how far we have come, while also remembering how much work there is still to be done, and supporting our leaders to keep the arc of history bending toward justice.
---
Donny Adair is a lifelong resident of Portland and a former chair of the Portland Black History Month committee.