Sticker Shock
Bible College land turns to market rate housing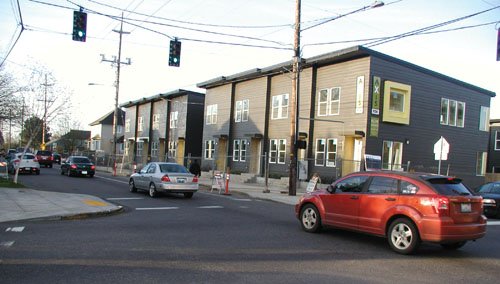 While it may not be unusual to have sticker shock for the price of new housing in the heart of Portland's historic African American community where gentrification is rampant, a property sold by the North Portland Bible College and turned into apartments by private developers, is making eyes roll.
The new 16 unit housing complex at North Vancouver and Alberta Street has a relatively low profile with its side to side units and standing at just two stories. You might even think they were affordable to low and moderate income families.
But when the Portland Observer checked on the rental prices, it found the housing was designed for market rates, advertised for people wanting sophisticated living in the heart of the city with condo-grade finishes.
The price tag of $1,895 a month for a 2 bedroom, 1,164 square foot townhouse was a big surprise to officials at the bible college, school officials said Monday. The African-American led college said it wanted to grow an asset for the community and a good neighbor to their adjacent land, but did not have any say in what was finally constructed.
Interim College President Dr. James Sweeney said when the college decided to sell its vacant and unused property, which was north of the school, the decision was made for the reason of helping put the college on better financial footing.
Originally, the purchaser indicted they wanted to build a health clinic, something that appealed to the college because of its public service nature, Sweeney said. He said the Portland Development Commission helped them with the process.
It wasn't until after the final sale that the plans changed dramatically to housing. Sweeney was shocked Monday when he learned of the advertised rental costs and the fact the housing is likely out of reach financially for many of the people the college serves.
"It makes my eyes roll," he said.