A Vampire to Capture You
Surrender to a mood of appreciation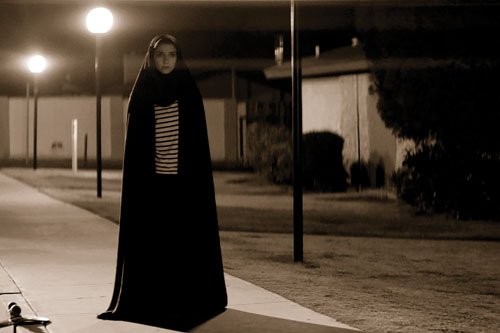 Vampires are endlessly fascinating, and endlessly versatile. Something about the idea of a class of immortal beings, lurking in the shadows and choosing victims among the living because they must, persists in our collective imagination, fascinating terrain for exploring our own shadow regions. Some of what we find there is just silly--like the lessons of the so-called "Twilight Saga" (the best lover will leave you bruised but grateful, and even a very protective 105-year-old cannot be expected to have thought through the consequences of an unplanned pregnancy).
Two more worthy examples of the genre are "What We Do in the Shadows" (now in theaters), a mockumentary about three squabbling vampires sharing a bachelor flat in Wellington, New Zealand, which spoofs the genre to hilarious effect, and "Let the Right One In," which used its vampire story to probe ideas about bullying and outsiders.
The first feature film of Iranian-American director Ana Lily Amirpour, "A Girl Walks Home Alone at Night," is arguably the most original and visually arresting of them all. Shot in gorgeous black-and-white and drawing from Iranian and American/European pop cultures and from several different eras of cinema and music, Amirpour has assembled a compelling depiction of feminist agency and longing.
The mythical Bad City, where the film is set, feels straight out of a graphic novel. A bleak California-esque town, its hills seem crowded with a subdivision of oil wells, and a ravine on the edge of town is littered with corpses that appear to have been simply discarded. We don't know how they got there, or why.
It quickly appears that we are not in California--but it can't quite be Iran either. Though it takes awhile to orient, the spare dialogue is uttered in Farsi, and there are plenty of little clues that women are not in charge. The camera floats through this nether world, lighting on a handsome young man, a sort of Persian James Dean, wearing jeans and a white T-shirt and driving a 1950s Thunderbird. He is hassled by a ruthless, drug-dealing pimp, to whom James Dean's addict father owes money. A prostitute past her prime walks the streets for the pimp, and absorbs his abuse with an air of melancholy. A rich girl toys with James Dean, who tends the garden on her family's estate. A tattered boy wanders about, watching and begging for money.
The film takes its time before introducing the girl who walks home alone at night. Early clues suggest that the town trades in danger and depravity--it is the kind of place where one could go missing and no one would look for you. The slight girl lurks in the shadows at night, wandering about in a chador, the dark, floor-length head covering that Muslim women sometimes wear. Why does she seem threatening, this slight girl in her dark cape, which we in the West read as a signal of women's oppression?
In Muslim culture, at least as popularly depicted, women are treated as though both dangerous and powerless. They must be covered because they are dangerous, yet they may be ordered about and controlled. The girl who lurks in the streets of this bad city later calls herself bad--but is she? She is a vampire, and is no doubt the most dangerous in a cast of dangerous characters--but does she also embody a kind of virtue?