Getting Ready for College and Career
Youth expo brings real world learning
3/24/2015, 1:17 p.m.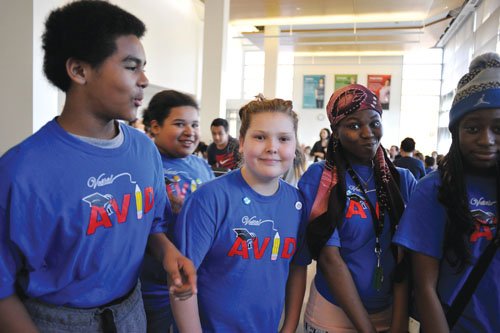 Getting ready for college and career took on new meaning for the more than 3,000 Portland Public students who mingled with some of the region's major employers at the NW Youth Careers Expo earlier this March.
The non-profit Portland Workforce Alliance organized the event. PWA has collaborated with the district since 2005 to build partnerships between Oregon businesses and Portland-area students with the goal of producing a skilled local workforce that can compete for great local jobs.
The partnership is one way PPS is attacking a key priority for the district and Superintendent Carole Smith: helping more students graduate from high school on time, poised to attend college and launch their careers.
Students who are involved in career education are significantly more likely to graduate from high school, according to national research and PPS data. Students who leave high school with a better sense of career possibilities are more likely to go to college, graduate from college and earn a degree on time.
"Figuring out what you don't want to do is just about as important as figuring out the thing that inspires your passion and fuels you," Smith told employers, students and officials who turned out for a breakfast to kick off the expo. "It's become really awesome, the kinds of things employers are doing in order to create career days, internships, job shadows or hands-on experiences that really allow students to come in and figure out what you do and to see what is going on in the real world."
Several students spoke up about how attending a PWA career day with employers such as
Nike, Mercy Corps, Howard S. Wright, Microsoft and Kaiser Permanente inspired them to dig in deeper at high school. Franklin High School senior Antonio Crosier went from getting ho-hum grades to taking six advanced placement classes after hooking up with the ACE Mentor Program. The after-school opportunity helps high school students find their career passions and educational paths toward family-wage jobs in architecture, construction and engineering. Next year, Antonio will study architecture at Portland State University.
The expo gave Benson High School student Naomi Likayi a chance to tell Tim Williams – executive director of the state office that promotes the development of the film, video and multimedia industry – about her dreams of working in those mediums and animation.
Smith's budget framework for the 2015-16 school year includes adding college and career readiness staff in high schools, as well as improving access for middle school students to the art, music and other electives that could one day inspire their career choice.
Oregon Gov. Kate Brown told business leaders and officials at the breakfast that her budget proposes $40 million for career and technical education.
"Thirty years ago, if you dropped out of high school you could get a job in the timber industry, or hire on as a farm hand. Fishing was dependable. You could make a decent living and support your family," Brown said. "Of course, many of those doors are now closing, and some of those jobs are gone. Dropping out of high school is no longer a viable economic option. Now, education is absolutely essential to prosperity."