In Loving Memory
Albert 'Al' Williams
3/24/2015, 11:44 a.m.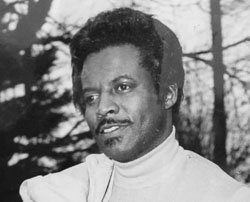 A memorial service for Albert 'Al' James Williams will be held on Thursday, March 26 at 1:30 p.m. at Willamette National Cemetery 11800 S.E. Mount Scott Blvd.
He was born in Little Rock, Ark. to Jessie Mae James and Sylvester Williams on May 2, 1941. However, the parents who lovingly raised him were Robert Lee James and Allene Gray. Al was a bundle of joy from the day he entered the world.
In 1960, he joined the Army and became a professional boxer, a sharp shooter/marksman, and a heavy vehicle driver. He was honorably discharged in 1966. He moved to Portland in 1968, where he worked as foreman for North West Packing Company. He later worked for the Portland Observer and Skanner newspapers, He was a man who loved and supported his community and he received special recognition from a minority business committee for furthering economic development for members of the community.
In 1972, he met the love of his life Carolyn Williams. They were married in 1973 and had three beautiful children. He was an excellent father and husband. Those who knew and loved him knew he was a comedian to the core. He could brighten up any day. Two of his favorite songs were "I Feel Good" by James Brown and "Something About the Name Jesus" by Rance Allen.

In 1988, he became the publisher and chief executive of his own magazine called "Unique," focusing on 'unique' individuals in the Great Northwest. After retirement, he became the owner of Video Transit on North Lombard Street. He loved to collect classic movies and videos.
He was preceded in death by his son, Albert "Alfie" Williams; uncle, Robert Lee James (who raised him as his son); mother, Jessie Mae James; and aunt, Frankie James. He is survived by his wife of 42 years Carolyn (Caallen); three children, Loressa, Orlando, and Dameka Williams; brother Robert "Dino" James Jr.; brother-in-law, Adolfo Akil; step mother Allene Gray; 14 grandchildren, one great- grandchild, and a host of relatives and friends.
Though God decided Al's journey had ended on the evening of March 9, 2015, our hearts will be filled with happy, funny, crazy, and loving memories forever.