No Turning Back
Setbacks won't change plans for one league
Mike Bivins | 3/24/2015, 4:19 p.m.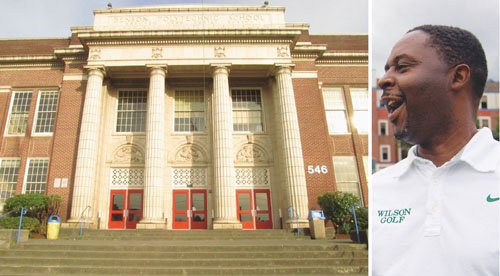 The re-establishment of the Portland Interscholastic League at the 6A level will continue into the next school year, despite setbacks in its inaugural year for at least two high school football programs which struggled to enroll enough players to compete at the 6A level, the highest ranking for the state's largest high schools.
Portland Public Schools Athletic Director Marshall Haskins says he is still committed to making athletics work at every high school and in all sports programs. He plans to continue his three year plan, announced in 2013, to re-energize the PIL as one league with cross-town rivalries and drawing community and alumni support.
Before the current school year, most PIL schools were playing at the 5A level, with Grant and Lincoln playing at the 6A level against each other as well as largely non-PIL opponents.
The move up has seemingly been a fortuitous turn of events for Lincoln and Grant, as Lincoln came up just short against the Clackamas Cavaliers in the 6A state playoffs. Grant also improved its standing by moving up to 18th in the state, and going 6-4 while making it to the first round of the playoffs where they lost a fairly competitive game against the West Albany Bulldogs—a big turnaround from the previous 2-8 season.
But for other schools, the change hasn't been as positive. Roosevelt, sporting a 9-2 record, was ranked fourth in the state at the 5A level in 2013 and made it to the second round of the state playoffs. This year, Roosevelt, with enrollment numbers roughly 50 percent lower than the biggest PIL schools, finished 5-5 with a first round exit from the 6A state playoffs following a 15-49 blowout loss to West Linn.
Madison and Benson finished 50th and 49th out of 50 schools in 6A across the state, with neither teams winning a single game last season. Madison actually forfeited the final two games of the 2014 season, and Benson football was in such dire straits at the end of the season, the school principal made the decision to not field a varsity team for the 2015-2016 school year in a bid to keep football at Benson and to develop a competitive and successful program.
School officials said Benson was committed to providing football players with a "varsity type experience that gives them a chance to compete and develop at the right level, and move back up to varsity when the time is right."
But Haskins indicates there is "no correlation" between the state of football at Benson and Madison and PPS' decision to move all PIL teams to the 6A level. He said growth will come to all PIL schools with forecasted enrollment increases in future years and more development of sports teams in the middle and elementary school levels.
He noted that sports leagues often have teams at the bottom, and that flagship teams should carry the league, and be competitive—citing Grants recent boys' soccer entry into the state championship game. However, Haskins has made it a goal to have no winless football teams in the future.
Through it all, he emphasized that it is not about winning championships but about providing students with a "quality athletic experience" and that the PIL is one league and it will stay one league.
---
On Twitter? Follow Mike for interesting tweets regarding regional conversations, international affairs and other random timely topics @itsmikebivins.