Skills for Manufacturing Jobs
Making an impact for underserved women
3/24/2015, 12:24 p.m.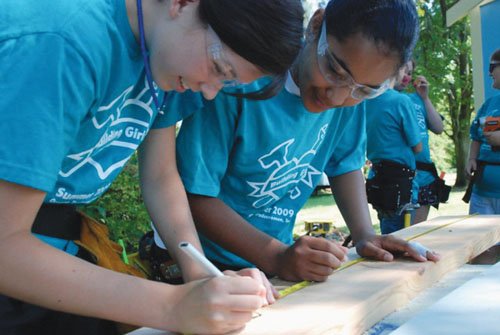 Oregon Tradeswomen and Bank of America are deepening their partnership to help create a skilled workforce to fill some of Portland's 87,000 advanced manufacturing jobs. It's a sector that is projected to grow 19 percent by 2022 – adding family-wage jobs for women while boosting the local economy.
The BofA Charitable Foundation named Oregon Tradeswomen, Inc. as a 2015 Neighborhood Builder partner, which combines $200,000 in flexible funding to promote women in the trade industry and launch a pilot program around women in manufacturing.
"Oregon Tradeswomen is making a significant impact for underserved women in Portland. This investment will empower the organization to build leadership capacity and expand to meet evolving needs in our community." said Roger Hinshaw, Bank of America President for Oregon and SW Washington.
Oregon Tradeswomen, Inc. was founded in 1989 and strives to promote success for women in the trades through education, leadership and mentorship. Studies show that women are more likely to live in poverty than men, in part because of the occupations in which they work, and also due to various cultural and social barriers. By providing training and access to middle-wage jobs, the group is helping to break the cycle of poverty and provide living wage jobs for women and families across our community.
Since 2004, OTI has helped 498 low-income women achieve careers in the trades, moving from poverty to the middle-class. In 2014 alone, 88 graduates were placed in their first job or moved into apprenticeships. With this grant, OTI will further develop their pilot curriculum and focus on recruiting girls and young women earlier, in addition to providing valuable leadership training for their growing organization.