Living a Life That Matters
Legendary trumpeter shows the way in 'Keep on Keepin' On'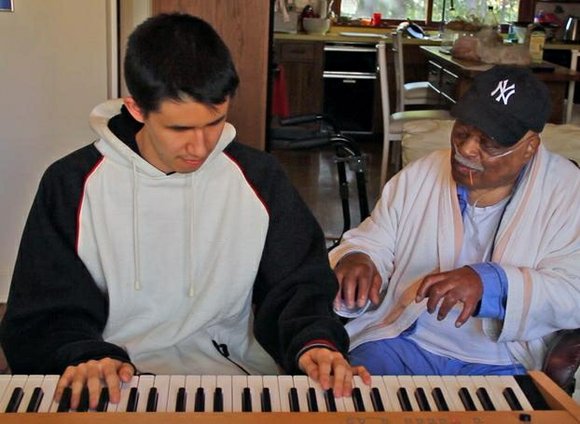 The heralded film "Whiplash" depicts—realistically, I expect—a world of hungry aspiring jazz musicians who are easy prey for a brutal, sadistic conductor who deliberately pits them against each other, feeds and then assaults their fragile egos, and continually moves success just beyond their reach.The conductor justifies his abusive methods as being necessary to the cultivation of true greatness; "There are no two words in the English language more harmful," he opines, than "good job."
Such thinking is certainly not limited to the worlds of music or the arts. But there is no better rejoinder than the beautiful documentary, "Keep On Keepin'On." Primarily an exploration of the friendship between legendary jazz trumpeter Clark Terry, who recently died at the age of 94, and aspiring jazz pianist Justin Kauflin, the film is also about greatness that teachers like the one in "Whiplash" can never hope to evoke or achieve. Because as Terry's example illustrates, how you live your life matters. And it would be hard to find better instruction for how to live your life well than can be found in this film.
Terry, one of the most recorded musicians in the history of jazz, played with Dizzy Gillespie, Count Basie, and Duke Ellington early in his career. He grew up "dead poor" in a family of 11 children in St. Louis, and so longed to play the trumpet as a child that he assembled his first horn using scrap metal from a junkyard (a process beautifully rendered in an animated sequence). He recalls how hard it was to find anyone to teach him and help him find his voice as a musician, and says he determined as a young person that if he ever learned to play, he would not be stingy in teaching others what he learned.
Terry's passion for carrying out that intention was apparently unlimited. As a young man, he took a boy named Quincy Jones under his wing, and the love between him and Jones, his first pupil, 70 years later is palpable. Over time, Terry mentored literally thousands more young musicians, including everyone from Miles Davis to Wynton Marsalis, and several of them speak affectionately on camera of his life-changing effect on their lives. Herbie Hancock emphasizes the impossibility of calculating the influence that Terry has had on several generations of musicians; "it's almost like being pulled by a magnet," he says, and the film contains a wealth of footage demonstrating Terry's unrelenting energy for investing in people and his unfailing good humor.
The film's first-time director, Alan Hicks, is himself a jazz drummer who played with Terry and benefited from his tutelage. Though he doesn't feature himself in the film, the film reflects his lived-in sense of Terry's influence. He wisely finds in Kauflin's relationship with Terry a worthy focus for the film, as it is such a good illustration of Terry's approach to life.
Kauflin, who lost his sight at age 11, met Terry while a student at William Paterson University, and was among scores of students who worked with him there. The relationship between the two deepened over a period when Kauflin struggled to make it as a musician and Terry was dealing with significant complications from diabetes, including the loss of his eyesight. Over a five-year period, the film depicts a number of setbacks for both men: Kauflin is forced to abandon his dreams of forging a career in New York City and moves home with his parents in Virginia, and he struggles with stage fright at a major competition; Terry faces increasingly debilitating symptoms and the amputation of both his legs.