Activist Teacher Remembered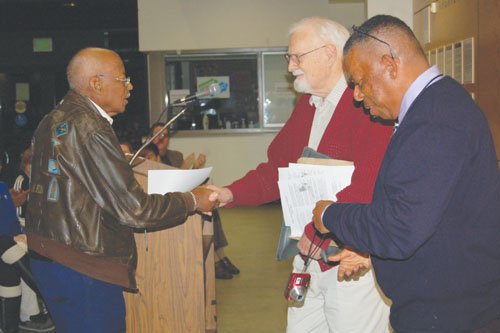 A longtime Portland educator who helped countless Portland students embark on careers in journalism and other pursuits, including the editor of the Portland Observer as a student at John Adams High School, is being remembered after his death at the age of 92.
Robert "Bob" Gerber taught English, speech and debate in the Portland School District for 25 years, first at Grant High School and then John Adams when it was opened in 1969 and until he retired in 1979. In 2002, he was awarded a lifetime achievement award for his contribution to civil rights when Portland's World Arts Foundation saluted him at their annual tribute to Dr. Martin Luther King Jr.
Gerber credited his views on equality to World War II when he served as a B-17 bomber pilot and his life was saved by members of America's first all-black Tuskegee fighter squadron.
He also is remembered for encouraging civic involvement and always making sure diverse voices had a seat at the table. As a retired Portland resident, he was active in bringing equality issues to the Cully neighborhood of northeast Portland.
Among his other interests, he was an extraordinary poet, and musician. He enjoyed sharing his talents by participating in poetry reading groups or by singing, playing his harmonica or banjo.
He and his wife Lyn were married for 62 years. She died in 2006 from Alzheimer's disease.
He is survived by his sister Mary Jane Evans of Cherokee, Okla.; son Chris (Cathy) Gerber of Vancouver; daughters Anne (Ron) Emmons of Hermiston and Leslie Brunton of Vancouver; three grandchildren; and several nieces and nephews.