On Alberta Street
Provocative Happy Hour
5/5/2015, 2:55 p.m.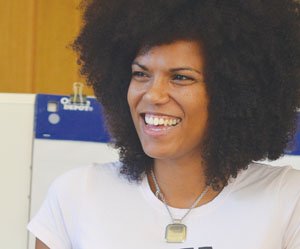 Educator, writer, organizer, and spoken word artist Walidah Imarisha will headline a happy hour series meant to spark provocative conversations about big ideas on Thursday, May 21 at 7 p.m. at the Alberta Rose Theater, 3000 N.E. Alberta St.
Imarisha, a Portland State University black studies professor, leads one of Oregon Humanities' most popular Conversation Project discussions, "Why Aren't There More Black People in Oregon? A Hidden History."
As part of the group's "Think & Drink," happy hour series, she will talk about the continuity and resistance in the history of Oregon's black communities, alternatives to incarceration, and science fiction and social change with Adam Davis, executive director of Oregon Humanities.
Minors are welcome when accompanied by a parent or guardian.