Black Male Achievement Hire
5/14/2015, 3:51 p.m.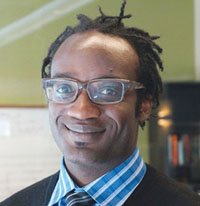 C.J. Robbins has joined Portland's Office of Equity and Human Rights as Program Coordinator for Black Male Achievement Portland.
Robbins comes to office with a wealth of experience in law, social work, and racial equity. As a Certified Law Student, he gained courtroom experience where he tried cases as a public defender and later clerked for Multnomah County Circuit Court Judge Ken Walker. During that time, Robbins says he saw a lack of equity in our justice system, especially for young black men.
Later in his career, he joined Portland Opportunities Industrialization Center to perform social work focused on black youth as part of the Community Healing Initiative.
"I learned a lot about myself during that time and realized my skills were better suited for equity policy work and for affecting change on a broader scale," he said.
Spending time as a stay-at-home parent gave Robbins a different perspective on life and community, and he said that that experience improved his patience, communication, and listening skills.
He hopes to lead "the effort to allow black men and boys in Portland to realize a wealth of untapped potential."