Nostalgic Visit to Portland
5/14/2015, 1:34 p.m.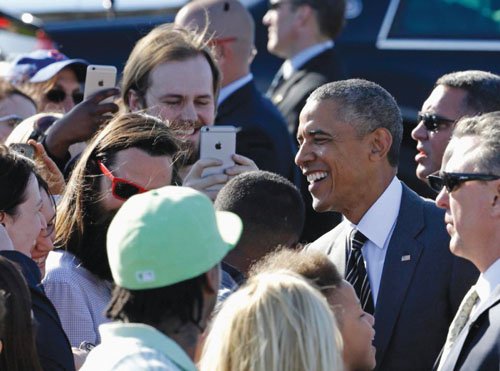 President Barack Obama was greeted with a few protests and lots of smiles during his visit to Portland and Beaverton on Thursday and Friday. Hundreds of cheering people lined his motorcade to welcome him to the city as he headed to a fundraiser at the Sentinel Hotel, where he talked about the spectacular weather that came with his arrival, and fondly recalling the massive rally he held in Waterfront Park during the 2008 campaign, which attracted an estimated crowd of more than 80,000.
Obama joked that it was the only rally he held during the presidential campaign that included kayakers.
"I just have found memorials of this place," he said.
He also cycled through a series of what he saw as his greatest accomplishments as president, including the Affordable Care Act, the economic recovery and the increased use of wind, solar and other clean energy.
He pushed for a new free- trade pact with 11 other Pacific Rim nations, the main purpose of this trip to Oregon, before a large crowd at Nike headquarters in Beaverton. Opponents to the trade deal held a rally, downtown, where people chanted and waved signs such as "No Fast Track to Hell," and "No Fast Trick."