King of the Blues
'Thrill is Gone' legend B.B. King remembered
5/19/2015, 11:40 a.m.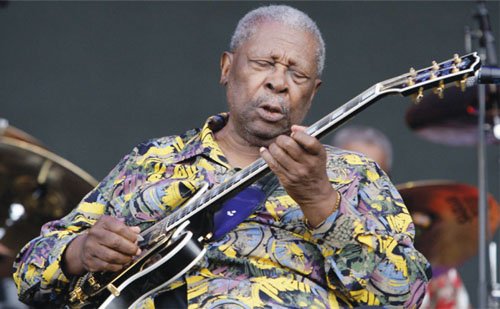 (AP) — B.B. King, whose scorching guitar licks and heartfelt vocals made him the idol of generations of musicians and fans while earning him the nickname King of the Blues, is being remembered after his death at the age of 89.
Although he had continued to perform well into his 80s, the 15-time Grammy winner suffered from diabetes and had been in declining health. He was in hospice care at his Las Vegas home when he died on Thursday.
For most of a career spanning nearly 70 years, Riley B. King was not only the undisputed king of the blues but a mentor to scores of guitarists, who included Eric Clapton, Otis Rush, Buddy Guy, Jimi Hendrix, John Mayall and Keith Richards. He recorded more than 50 albums and toured the world well into his 80s, often performing 250 or more concerts a year.
King played a Gibson guitar he affectionately called Lucille with a style that included beautifully crafted single-string runs punctuated by loud chords, subtle vibratos and bent notes.
The result could bring chills to an audience, no more so than when King used it to full effect on his signature song, "The Thrill is Gone." He would make his guitar shout and cry in anguish as he told the tale of forsaken love, then end with a guttural shouting of the final lines: "Now that it's all over, all I can do is wish you well."
His style was unusual. King didn't like to sing and play at the same time, so he developed a call-and-response between him and Lucille.
A preacher uncle taught him to play, and he honed his technique in abject poverty in the Mississippi Delta, the birthplace of the blues.
"I've always tried to defend the idea that the blues doesn't have to be sung by a person who comes from Mississippi, as I did," he said in the 1988 book "Off the Record: An Oral History of Popular Music."
"People all over the world have problems," he said. "And as long as people have problems, the blues can never die."
Fellow travelers who took King up on that theory included Clapton, the British-born blues-rocker who collaborated with him on "Riding With the King," a best-seller that won a Grammy in 2000 for best traditional blues album.
Still, the Delta's influence was undeniable. King began picking cotton on tenant farms around Indianola, Mississippi, before he was a teenager, being paid as little as 35 cents for every 100 pounds, and was still working off sharecropping debts after he got out of the Army during World War Two.
King got his start in radio with a gospel quartet in Mississippi, but soon moved to Memphis, Tenn., where a job as a disc jockey at WDIA gave him access to a wide range of recordings. He studied the great blues and jazz guitarists, including Django Reinhardt and T-Bone Walker, and played live music a few minutes each day as the "Beale Street Blues Boy," later shortened to B.B.