Picking up the Baton
Activists keep dead father's pursuit for justice alive
Tessara Dudley | 5/19/2015, 11:30 a.m.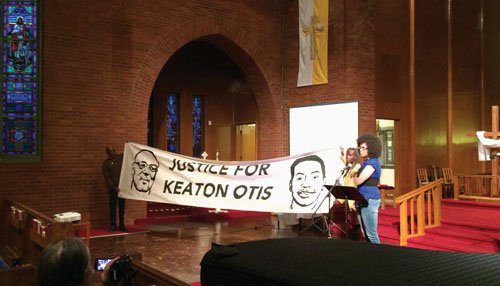 Augustana Lutheran Church sits at the corner of Northeast 14th Avenue and Knott Street, a sturdy brick building with a sign proclaiming it as a "thriving multicultural congregation." But the church played host to a different kind of gathering recently as community members from all over the city came to honor the memory of a young African American man killed by police five years after his death.
Keaton Otis was the victim of the Portland Police Bureau's crackdown on gang activity in 2010 when officers pulled the 21-year-old driver over for failing to signal a turn. Wearing a hoodie and driving a nice car, police said he looked suspicious.
After surrounding the vehicle at Northeast Sixth and Halsey, the police said he pulled a gun from his glove compartment and fired. Police unleashed a hail of bullets, killing him instantly. One month later, Otis's father, Fred Bryant, began monthly vigils at the spot where he was killed, a solemn ritual for justice he continued until he died from a stroke in October 2013. But thanks to other Portland activists working on police reform and justice issues, the vigils have continued.
Walidah Imarisha and JoAnn Hardesty wanted to do something more. They gathered speakers, including Emmett Wheatfall, a local poet, to host a larger event, indoors. Augustana Church and its pastor W.J. Mark Knutson, a long time activist for social justice causes, offered to host the May 12 gathering.
Wheatfall performed an original piece entitled "Keaton Otis: Seven Seconds from Heaven," an explosive and chilling poem that included lines from a video taken by one of the witnesses to Otis's death. That witness, Christina Lais, has moved out of state, but responded to an interview request through Facebook.
"The trial was a joke," Lais said. "I remember sitting in the hallway outside of the court room, watching everyone interact with each other. The prosecutor, the police officers, cheerfully bantering about their lives as if they were close friends. 'Everyone here is on the same side,' I thought to myself. No one was on Keaton's side."
The event honored Bryant for his years of work on behalf of his dead son. At the front of the room, organizers displayed a banner, created by members of Black Lives Matter PDX, emblazoned with the words "Justice for Keaton Otis" between portraits of Otis and Bryant.
Imarisha, a professor at Portland State University and a writer, said the vigil and the gatherings that came before it were opportunities "to remember those who were lost, not just as names or faces on posters at rallies, but as real people, as children, as parents, as community members."
It's important "to recommit to the ongoing work, and really think about what justice would look like in our communities," she said.
Shirley Isadore, the mother of Kendra James, an unarmed African American woman who was shot and killed by police during a another traffic stop, this one in north Portland in 2003, and Joe Bean Keller, the father of Deontae Keller, a young African American man shot and killed by Portland police outside his vehicle in 1996, both told their stories.
Keller spoke about the need to hold out for justice. "I've been fighting this fight for 20 years, and I have more fight within me. I'm not done yet."
He said by examining transcripts in his son's death, he discovered that his lawyer had built a confusing, flimsy case for a lawsuit against the police before dropping the case three months from the trial date.
It's very important that you do read," said Keller. "Some of this information can really be turned around, and if you're not quite sure and clear on it, it will confuse you."
Isadore, meanwhile, said she is haunted by questions over her daughter's death. "My baby had contact with these officers six months before this event, and I still don't know why," she said. "I know I'm never gonna get the answers I need."
Other speakers included Dan Handelman of Portland Cop Watch; David Whitfield, a community member who has combed through files related to the Otis case; Hardesty, a former state lawmaker and the president of the Portland NAACP branch; and Alyssa Bryant, Otis's sister.
Bryant talked about the day the family learned Keaton Otis was killed.
"We found out two days after he was murdered. We were watching the news. And from that day forward… my dad was never the same." According to her, Bryant spent hours poring over paperwork, court transcripts, and the files in his son's death. Evidence tying his son to a gun was questionable.
Whitfield also spoke to the importance of citizens taking the time to look over all the documents from police, prosecutors and the courts. He listed inconsistencies in the transcripts and files in Otis' case; saying he found piles of evidence to show that the police engaged in a coverup of what he called "the execution of Keaton Otis."
The event was emotional. At times, some of the speakers were stopped by tears. They hugged each other and a small altar was set up where community members wrote messages to Otis and Bryant. These notes were read aloud near the end of the night, and they demonstrated the air of community that characterized the evening and the broader movement for justice.
"When Fred called for a vigil at the site of the killing, we went to support him," said Hardesty, "so he'd understand he was not alone in knowing a tremendous wrong had been done."
"We don't need to go any further," Whitfield said. "These things are happening all the time: thousands of African Americans are being killed. They've all got stories like this going back hundreds of years. What we need to do is keep raising their names."
When it was his turn to speak, Dr Leroy Haynes, pastor of northeast Portland's Allen Temple Church, did just that. Haynes headed the Texas Chapter of the Black Panther Party in the 1970s, and with his speech, he connected the modern struggle with the past.
"This is not a new fight," Haynes said. "Some of us have been fighting this thing all our life, and it's a struggle that continues." He invoked the names of victims of police violence from across the nation: Otis, Kendra James, James Chasse, Aaron Campbell, Trayvon Martin, Michael Brown, Eric Garner, and Freddie Gray.
"This is not a moment," he said, "This is a movement. And you are a part of that movement. You are writing history."
What next? The monthly vigils will continue.
"Alyssa, Jo Ann Hardesty and I have committed to continuing these vigils, in Keaton's name, in Fred's name, until justice has been achieved," Imarisha said.
The following are upcoming events to note in the justice movement: NAACP General Meeting, Saturday, May 23 at noon at the North Portland Red Cross, 3131 N. Vancouver Ave; Community Oversight Advisory Board meeting on police reforms, Thursday, May 28 at 5:30 p.m.; Montavilla United Methodist Church, 232 S.E. 80th Ave.; Albina Ministerial Alliance Coalition for Justice and Police Reforms general meeting, Saturday, May 30 at 11 a.m. at Maranatha Church, 4222 N.E. 12th Ave.; and a screening and dialogue for the documentary Arresting Power, Sunday, June 7 at 3 p.m. at Clinton Street Theatre, 2522 SE Clinton St.
---
Tessara Dudley is a poet and educator living in east Portland.