Picking up the Baton
Activists keep dead father's pursuit for justice alive
Tessara Dudley | 5/19/2015, 11:30 a.m.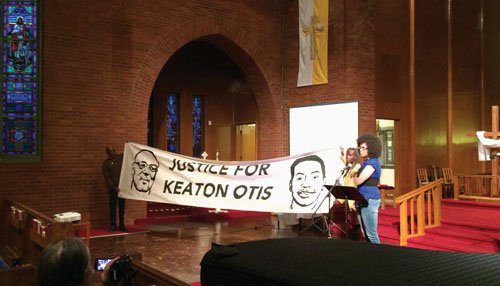 Augustana Lutheran Church sits at the corner of Northeast 14th Avenue and Knott Street, a sturdy brick building with a sign proclaiming it as a "thriving multicultural congregation." But the church played host to a different kind of gathering recently as community members from all over the city came to honor the memory of a young African American man killed by police five years after his death.
Keaton Otis was the victim of the Portland Police Bureau's crackdown on gang activity in 2010 when officers pulled the 21-year-old driver over for failing to signal a turn. Wearing a hoodie and driving a nice car, police said he looked suspicious.
After surrounding the vehicle at Northeast Sixth and Halsey, the police said he pulled a gun from his glove compartment and fired. Police unleashed a hail of bullets, killing him instantly. One month later, Otis's father, Fred Bryant, began monthly vigils at the spot where he was killed, a solemn ritual for justice he continued until he died from a stroke in October 2013. But thanks to other Portland activists working on police reform and justice issues, the vigils have continued.
Walidah Imarisha and JoAnn Hardesty wanted to do something more. They gathered speakers, including Emmett Wheatfall, a local poet, to host a larger event, indoors. Augustana Church and its pastor W.J. Mark Knutson, a long time activist for social justice causes, offered to host the May 12 gathering.
Wheatfall performed an original piece entitled "Keaton Otis: Seven Seconds from Heaven," an explosive and chilling poem that included lines from a video taken by one of the witnesses to Otis's death. That witness, Christina Lais, has moved out of state, but responded to an interview request through Facebook.
"The trial was a joke," Lais said. "I remember sitting in the hallway outside of the court room, watching everyone interact with each other. The prosecutor, the police officers, cheerfully bantering about their lives as if they were close friends. 'Everyone here is on the same side,' I thought to myself. No one was on Keaton's side."
The event honored Bryant for his years of work on behalf of his dead son. At the front of the room, organizers displayed a banner, created by members of Black Lives Matter PDX, emblazoned with the words "Justice for Keaton Otis" between portraits of Otis and Bryant.
Imarisha, a professor at Portland State University and a writer, said the vigil and the gatherings that came before it were opportunities "to remember those who were lost, not just as names or faces on posters at rallies, but as real people, as children, as parents, as community members."
It's important "to recommit to the ongoing work, and really think about what justice would look like in our communities," she said.
Shirley Isadore, the mother of Kendra James, an unarmed African American woman who was shot and killed by police during a another traffic stop, this one in north Portland in 2003, and Joe Bean Keller, the father of Deontae Keller, a young African American man shot and killed by Portland police outside his vehicle in 1996, both told their stories.