PSU Hosts Queer Indigenous Gathering
5/19/2015, 3:49 p.m.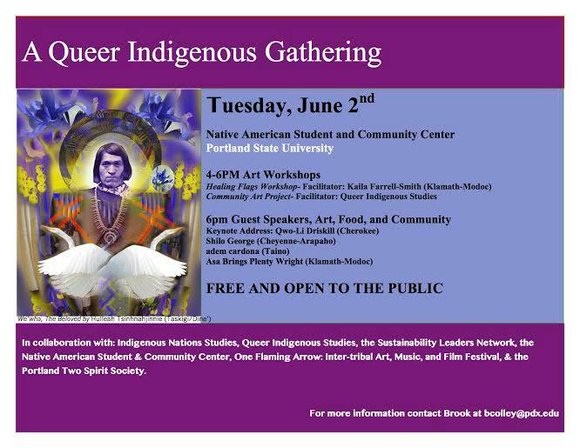 The Native American Student and Community Center of Portland State University welcome the community to a free gathering and workshop focusing on the history, art and state of LGBTQ issues in native communities.
Guest speakers for the Queer Indigenous Gathering will include Shilo George of the Cheyenne and Arapho nations, adem cardona of the Taino nation, and Asa Brings Plenty Wright of the Klamath and Modoc nations. Activist and writer Qwo-Li Driskill will delivery the keynote address.
The gathering will also including native art workshops facilitated by artists Kaila Farrell Smith. The event is being co-sponsored by the Portland Two-Spirit Society and takes place Tuesday June 2, from 4 p.m. to 8 p.m.