Prisoners Find Peace in Art
Looking at the world from inside and outside custody
5/21/2015, 3:45 p.m.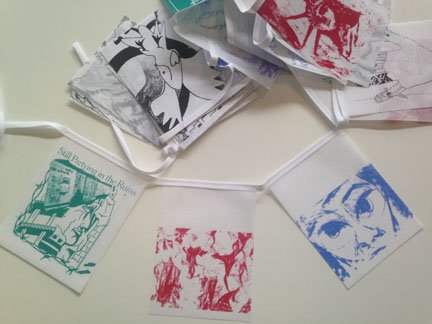 A group of Portland prisoners preparing to reintegrate into the community have been offered an artistic means of doing so.
A new site-specific art project that encourages convicts to look at the world inside and outside custody, and what those worlds mean to them, has led to hundreds of small printed flags being strewn across the Columbia River Correctional Institution in northeast Portland.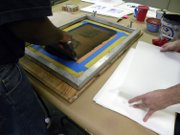 The prison is aimed at helping men who are within four years of release from custody, and has a mixture of re-entry levels that run from a residential drug and alcohol treatment center to an alternative incarceration program.
The art program was brought to inmates by the Know Your City organization, which brought together approximately 12 artists who in turn created 30 unique designs, each approximately seven by nine inches. Hundreds of screen-printed flags were then sewn into long strands that can be hung as a complete set.
Lead artist Emily Squires and scholar-activist Reiko Hillyer will host a dedication ceremony for the art that has been created by inmates on Tuesday, May 26 at 1 p.m. at the Columbia River Correctional Institution, located at 9111 N.E. Sunderland Ave. Community members must RSVP to attend by emailing Emily Squires at emily.squires@gmail.com or calling 314-650-9934 by Friday, May 22.
For more information on this project or other community art and social justice programs, visit KnowYourCity.org.