Healthy Housing Challenge
Volunteers give back to help disabled woman
5/26/2015, 4:36 p.m.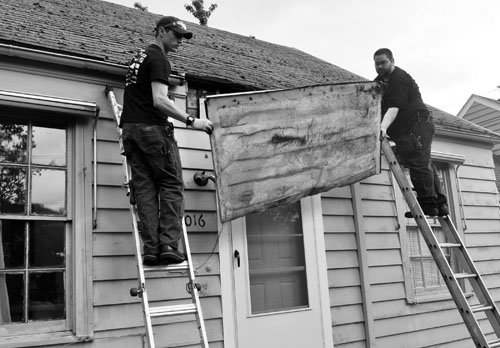 A group of volunteers worked hard transforming the northeast Portland home of a low-income, disabled woman, making it easier and healthier for her to live there.
They removed excess trees and scrub brush; mowed the overgrown yard; and installed a front deck, new gutters, new washer and drier, and grab bars inside and outside so the occupant can get up and down the stairs more easily. A front door awning that had been leaking and causing dry rot was also removed.
"We got a lot of work done," said team co-captain Toby Service of Wells Fargo, of the May 16 event, drawing a group of Wells Fargo and rebuilding Together Portland volunteers.
Co-captain Kris Andrzejeski, also of Wells Fargo, said the resident was very excited to have the new porch and deck in the front.
"She can't do maintenance. We alleviated a lot of the yard maintenance she would have to do. That was a really big help to her," Andrzejeski said.
By the end of the day, the volunteers had filled a large dumpster to the top with debris from the yard and interior.
Wells Fargo donated $15,000 for the work as part of its support of the Healthy Housing Challenge, a joint project of the National Center for Healthy Housing, Wells Fargo and Rebuilding Together.