Heisman Trophy in Portland
Historical Society to display esteemed award
5/26/2015, 3:26 p.m.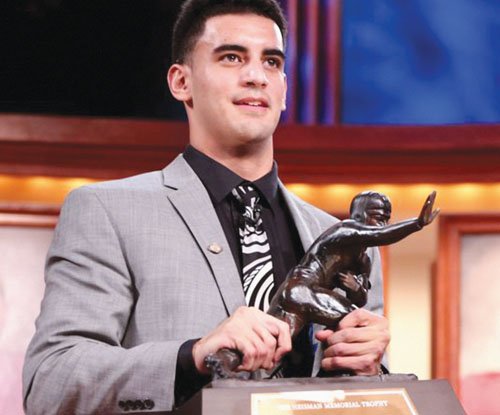 The 2014 Heisman Trophy, presented to the University of Oregon in recognition of the accomplishments of quarterback Marcus Mariota, will be on display at the Oregon Historical Society, 1200 S.W. Park Ave., from Friday, June 5 through Sunday, June 7. Through a sponsorship donation from Nike, admission to the Oregon Historical Society will be free for the entire weekend.
First awarded in 1935 by the Downtown Athletic Club of New York City and named after John Heisman a legendary college football coach, , the Heisman is presented annually to the NCAA football player whose performance exemplifies the pursuit of excellence with integrity.
The practice of awarding two trophies each year began in 1968, with one trophy going to the chosen player and another to the school represented by the winner.
"We are delighted that the University of Oregon asked the Oregon Historical Society to be the venue to display the Heisman Trophy in Portland," said Kerry Tymchuk, the Oregon Historical Society's executive director. "Thanks to the support of Nike, countless football fans can view the trophy and celebrate this exciting moment in Oregon sports history."
Following the exhibit, the Heisman Trophy will return to Eugene, where it will eventually be put on permanent display at the University of Oregon Hatfield-Dowlin Complex.