A.J. Java Hosts Concerts
5/26/2015, 3 p.m.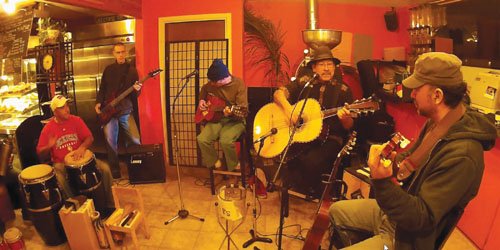 A.J. Java, a community cafe across the street from Peninsula Park in north Portland, welcomes the public to a series of free weekly concerts this summer.
Owner and activist Eleza Faison invites you to join neighborhood musicians Aquiles Montás and Lolo Cutumay for an alcohol-free, family-friendly music night each Friday from 6 p.m. to 9 p.m., featuring Cuban sandwiches and a potpourri of Latin sounds.
Montás and Cutumay are frequently joined by other local musicians, including Carlos Flores, Eric Johnston, Fito Roberts, Iván Alamos, Kiwi Karen, Lolo, and Tito Amaya. A.J. Java is located at 6425 N. Albina Ave.