Kids Go Camping to Learn Conservation
Oregon Zoo program opens nature to urban kids.
5/26/2015, 4:51 p.m.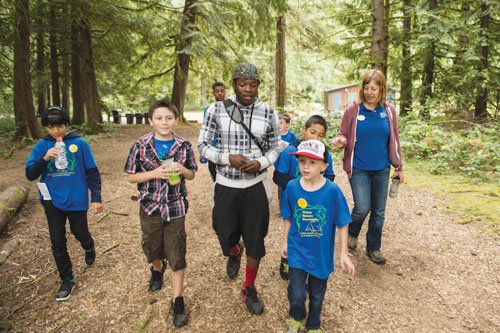 As a small child, Troy Frison always liked the zoo, so when his mentor at the Boys & Girls Club recommended him for the Oregon Zoo's Urban Nature Overnights, he was excited.
"UNO opened my mind to a lot more things," Frison said. "I was stuck on sports growing up. This program opened my mind about conservation and nature."
This summer, for the 15th year in a row, young campers will be pitching tents at local parks much like Frison did in third grade.
Since its launching, UNO has provided camping trips for 4,561 urban youths, and school-year programming for 1,054 urban youths. The program, designed to actively engage historically under-represented Portland area youth in outdoor recreation and conservation, is a partnership with the Bureau of Land Management, the U.S. Forest Service and other community partners.
"This is specifically a program for low-income, ethnically and culturally diverse kids," said Jody Van Riper, who has been running UNO for 14 of its 15 years. "And it's part of the zoo's goal to reach out to community members with our conservation messages. It's fun to get kids outside and away from electronics to open their eyes to the natural world."
Van Riper said one of the many ways UNO is successful is that young participants frequently return as teens to mentor new students in the program.
Frison is one of the returning teens. At 15, he applied and was accepted to the Zoo Animal Presenters, or ZAP, program a three-year paid internship for low-income, diverse teenagers. ZAP aims to provide job skills, positive youth development, and an introduction to conservation education.
Now 19 and after completing his three years in the ZAP program, he was hired on as a UNO staff member for the year.
UNO participants are identified by community partner organizations. To find out more, visit oregonzoo.org.