Joyce Washington All-Star Classic Game
High school girls score college funds in this years games
5/27/2015, 1:33 p.m.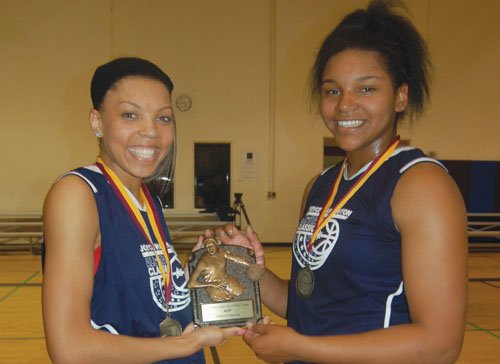 This year's competition brought four girls basketball teams together for a championship game in memory of Joyce Washington. The Washington Platinum team took home first place, winning 51-43 against the 503' Runnin' Rebels in the championship game.
Tyschal Blake and Martina McCowan, two seniors at St. Mary's Academy in downtown Portland, tied for the Most Valuable Player award and received a scholarship on behalf of the Portland Observer and the Washington family, which means to honor and celebrate the life and achievements of former owner Joyce Washington through providing the scholarship.
Both Blake and McCowan let the Portland Observer know what their goals with their scholarship would be.
"I plan on using this money for extra necessities because I have already received a full ride scholarship to California State University Long Beach," said McCowan. "The opportunity presented before me is truly amazing and I am truly grateful for it. Playing basketball is my passion and I am extremely blessed to be receiving this scholarship. It is a great feeling know that people are cheering for you and supporting you."
Blake also was excited to have won alongside McCowan, and shared her thoughts. "Playing in the Joyce Washington All Star Classic Game was a special experience for me because it gave me the opportunity to be a part of tradition in the basketball community of Portland," she said. "The Joyce Washington Classic provides an opportunity for the young talented athletes of Portland to showcase their skills while having a good time. This game was especially important and marked the end of my high school basketball career. Next year I will be attending Weber State University to play division one basketball. With the scholarship me and my teammate Martina McCowan earned for winning MVP, I plan on putting it towards my education or athletics for next year."