In Loving Memory
James D. McCoy Jr.
11/5/2015, 4:23 p.m.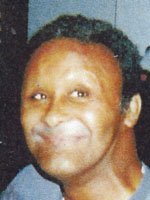 James D. McCoy Jr. was born May 4, 1941 and died Oct. 24, 2015. Services were held Tuesday at Cornerstone Community Church.
He was proceeded in death by his loving parents James McCoy Sr. and Del Vina Butler-Smith; brothers LeRone Smith of St. Louis, Mo., and Hershal L. Smith of Portland; and sisters Kathleen K. Smith, Elizabeth Howard and Gertrude M. Smith, all of Portland.
To cherish his memories and remember his life are three brothers, Roger Smith, Rickey Penny and Thomas W. Hudson of Portland; seven sisters, LaVerne E. Davis (Ralph) of Fairview, Bernice Farris-Fields, Henryetta Gill, LaRan Smith, Bertie Stephens (Chris), and Yvonne Crockett (Marcus), all of Portland, and Yvette O' Bannon (Marvin) of Lakewood, Wash.; five aunts, Bertha Poston and Irma London of Portland, Dorothy Bonnerman, Alvina Parker and his running buddy Ola Mae Franklin of San Jose, Calif.; one uncle, John Butler of Renton, Wash.; and 16 caregivers including Monica, Tracie and Megan (DJ; Jim's adopted grandson's mom).

He also leaves a host of nieces, nephews, great nieces and nephews, cousins, other relatives and friends.