Chip Shields Won't Run Again
Lawmaker to stop down; Frederick to run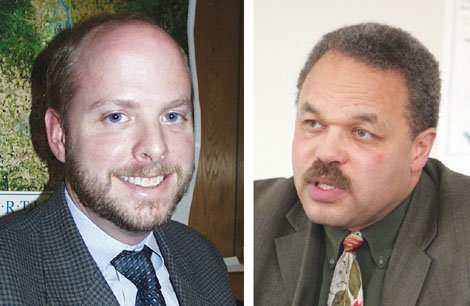 A Portland lawmaker who rose from a local non-profit helping former inmates transition back into productive lives to later becoming a State Representative and then State Senator announced Friday he will be giving up his legislative duties at the end of his term next year.
Chip Shields has represented north and northeast Portland as a Democrat in Senate District 22 since 2009. He was first elected to political office as a State Representative in 2005 after serving as the former director of Better People, the organization that serves a diverse clientele, especially from the African American community, from its offices on Northeast Martin Luther King Jr. Boulevard.
"After serving over 10 years in the legislature, I believe it is time for me to step aside after my term to spend more time with my family, devote more time to elevating the quality of fostering in Oregon through board membership with the Oregon Foster Parent Association, and give other community members an opportunity to serve our community in the legislature," Shields said in a statement delivered to local news media and his constituents.
Rep. Lew Frederick, the Portland Democrat and only African-American lawmaker in the House, immediately announced he would run for the District 22 seat.
"I hope to continue to be a part of a strong team effort to represent north and northeast Portland," Frederick said. "I plan to carry with me into the Senate a commitment to public safety and justice, economic opportunity that includes economic security, and sound stewardship of the Oregon we all love."
Shields said not seeking re-election was a difficult decision for him and his spouse, Shelda Holmes and family to make.
He said he was proud of the support he has received over the years from passionate, engaged community members, and especially reflected back on the accomplishments he helped make in the Legislature
Of the hundreds of bills passed, he listed highlights being legislation to make Oregon only the second state in the nation to pass racial impact statement legislation; passing the largest reform in Oregon insurance law in recent memory to spur cleanup of the Portland Harbor; making health insurance companies justify their premium increases; negotiating and passing bills that are investing $2.1 million in pre-apprenticeship training for women and people of color; maintaining $530,000 for assistance to returning veterans; reinvesting in the Family Preservation Project in order to help children of incarcerated parents through therapeutic intervention; and
giving the insurance commissioner the power to go after bad-acting insurance companies to extract restitution.
He said he will serve out the rest of his term through the end of 2016 committed to advocating for raising the minimum wage to a living wage, lifting pre-emptions that prohibit local governments from using tools to address homelessness and gentrification, and elevating the quality of fostering in this state.
"I am comfortable leaving this position at the end of my term because I know we have many gifted and thoughtful leaders in our community who are passionate about making north and northeast Portland a great and affordable place to live, work, and play for all our community members. I encourage those who care about our community to consider serving in our state legislature.