Entitled to Public Discourse Without Interference
Demanding answers and accountability
11/17/2015, 3:40 p.m.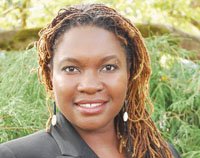 Editor's note: The following statement from Urban League of Portland President Nkenge Harmon Johnson is in response to the Oregon Department of Justice's surveillance of Oregonians who have used the social media hashtag 'Black Lives Matter,' a probe that's now under investigation.
---
Together with other community leaders and concerned citizens, I sent a letter to Attorney General Ellen Rosenblum, and other statewide- and locally elected officials on Tuesday, Nov. 10 calling for an immediate response to the Department of Justice's investigation of Oregonians who have used the social media hashtag "Black Lives Matter."
The letter calls for an audit of the Criminal Justice Division of the Oregon Department of Justice with regard to its surveillance of Oregonians using the Black Lives Matter hashtag, and others means of political and social justice engagement.
As President of the Urban League, working with my staff, part of my job is to work with government appointees and elected officials to better serve all Oregonians and southwest Washingtonians. For 70 years, this Urban League has helped those who wish to help themselves. We register citizens to vote, and encourage them to use that right. We educate and challenge young people to exercise their leadership skills. We provide services and deliver results through advocating on the toughest subjects. At times, we also lead the way to hold government accountable for its treatment of Oregonians. This is one such time.
When a constituent contacts the Urban League about a concern, our first step is to gather the facts. If there is a charge of discriminatory treatment, we may contact the other parties involved to ask for more information. Then, if appropriate, the Urban League may conduct mediation between the parties, or refer the constituent to an attorney, the Oregon Bureau of Labor and Industry or other avenue to address the issue. My role is to use my voice to bring disparities to light, and to fight for fairness. In the present instance, however, I am unable to dispassionately engage those options because my family has become a target.
Unlike other issues that my office confronts, because the Criminal Justice Division of the Oregon Department of Justice has targeted my husband, I am personally involved in this absurdity. I propose to speak for myself and for my family, while two senior members of the Urban League staff will push for a response and engagement from our elected leadership going forward. The Urban League aims for answers and accountability on behalf of you, our members, and all Oregonians.
Days ago, I learned that my husband Erious Johnson, the Director of Civil Rights for the Oregon Department of Justice and the Office of the Attorney General, has been profiled and targeted by his own agency. The Criminal Justice Division of the Department of Justice has printed and reviewed all of his photos and posts on Twitter. While finding nothing ominous or inappropriate, because he has used the hashtag "Black Lives Matter" the Department of Justice labeled Erious, created a file in the Criminal Justice Division, and reported his social media activity to Attorney General Rosenblum.