In Loving Memory
Don A. Burns
11/17/2015, 3:31 p.m.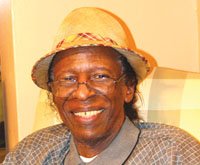 Services for Don A. Burns, a longtime resident of Portland, will be held Monday, Nov. 23 at 12:30 p.m. at Philadelphia Community Missionary Baptist Church.
He was born Feb. 20, 1942 in Clarks, La., to the Ecker C. Burns Jr. and Mary Lee McCully. The eldest of seven children, his siblings were James Ray, Patricia, Danny, Glenn, Shawntella and Yulinda.
He peacefully completed his earthly journey and transitioned from this life on Nov. 10, 2015 with family by his side. He professed his life to God and he let everyone know it, setting aside time each day to study God's word, and inviting others to do the same.
On October 19, 1963 Don married his first love Ella Mae Irving. That union was blessed with one daughter, Lori Ann.
Don was graced with love again with Bernice Mikes and that union was blessed with two children, Yvonne Marie and Deon Allen; joining Bernice's children, Phillip, Vanessa and Daphne to complete their family.
He attended Irvington Elementary School and graduated from Benson Polytechnic High School where he developed a passion to begin his life long career as an electrician. After graduation, he served four years in the Army National Guard and was honorably discharged in July 1964.
There are so many memories we're going to miss; the way he would say "Heeeey" that was uniquely him; the way he lit up a room just by entering into it, his encouragement; his truth, his generosity, those toothpicks; the way he loved; the lessons he taught, and the ones we learned. We're going to miss his laugh; the way he called our names, watching games together, and dancing in the middle of the day. We're going to miss his refrains of "Something About The Name Jesus" over and over and over again, and miss the way he lived his life and on his own terms, We see these traits in ourselves, we are him.
Don was preceded in death by his parents and second dad Walter Lee Lewis, whom he loved and respected dearly, and Mary Lee Lewis and grandson Lamar Jaray Hart.
He is survived by his children, grandchildren, great-grandchildren, siblings, and many nieces and nephews, cousins and dear friends.