Football Standout Bowl Bound
11/25/2015, 1:24 p.m.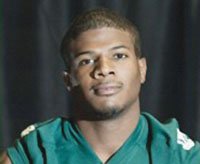 You can help De'Angelo Bell of Portland who has earned an invitation to participate in the 2016 USA College Football Bowl, Jan. 15-18, at Savannah State University in Savannah, Ga.
A cornerback at Montana Tech, Bell started all 10 games this season. He totaled 37 tackles (26 solo and 11 assisted) and was named Academic All-Conference. He was also named to the 2015 USA College Football NAIA Pre-Season All-American Team.
Bell started playing multiple sports as young child in Portland with the help of coaches who served as father figures. His family gives special thanks to coaches Darryl Robinson, Anthony Jordan, De' Damon Smith, Montreal and Robert Brazile and Anthony Stoudamire.
To help pay the expenses needed to attend the bowl, the family is asking for community support. All contributions can be made in care of De'Angelo Bell, American Football Networks, P.O Box 477, Roseland, NJ 07068, Attention Dennis Wilson, president.