Harold Williams Gym Dedication
11/25/2015, 1:22 p.m.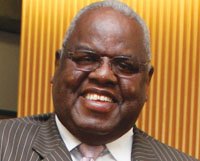 Portland Community College is honoring the late Harold Williams on Wednesday, Dec. 2, when the basketball court at the PCC Cascade Campus in north Portland will be officially dedicated in his memory and named "Harold Williams Sr. Court." A brief dedication ceremony is set to take place at approximately 6:45 p.m. in the gym just before the tipoff of the Panthers men's basketball game. The women's game gets under way at 5 p.m. All are welcome to attend.
Williams served on the PCC Board of Directors from 1991 until his death in 2012. He had a long record of service to the community and extensive background in civil rights, affirmative action, education and justice.
He served on many advisory committees and volunteered hundreds of hours of time to civic, religious and cultural activities. He was known for his promotion of alternative programs for at-risk students and was successful in expanding classroom space for mentorship programs for students of all ages. He routinely testified on bills of significance to community colleges and worked to partner community college services to poorer, underserved parts of the community.