Missing Girl - Update: Found
10/1/2015, 12:17 p.m.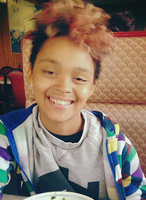 Update 10/5/15: Authorities report that Jazz came home Sunday and is no longer listed as missing. Thank you to everyone who shared her story.
---
The Portland Police Bureau's Missing Persons Unit is asking for the public's help to locate a 13-year-old girl, Jazz Richard-Ricke.
She was last seen at 8:00 p.m. on Wednesday evening at Harry's Mother, located in Northeast Portland, and was expected to take a bus to an Old Town hotel but did not arrive as planned.
Jazz is described as African American, 5'4" tall, 110 pounds, last seen wearing a black Beatles t-shirt, black skirt over tan tights, and a white scarf with black dots.
Jazz is familiar with TriMet and frequents Downtown Portland.
Anyone seeing Jazz is asked to call 9-1-1. Anyone with non-emergency information is asked to contact Detective Lori Fonken at 503-823-1081.