Obama to Visit Roseburg
Campus tragedy tears at hearts and minds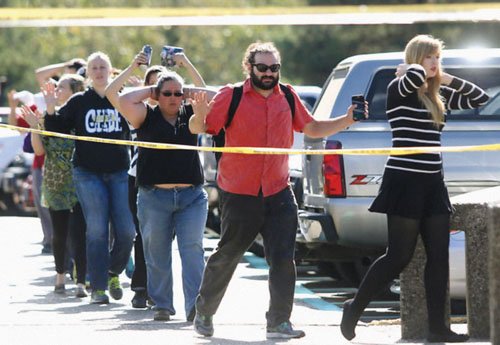 President Obama announced Monday that he will travel to Roseburg on Friday to visit with the families of victims killed in a campus shooting that left 10 people dead, including the 26-year-old gunman, and injured nine people.
The tragedy at Umpqua Community College (UCC) has sparked several memorials for the victims, including Portland and across the country, and led to some soul searching on what it will take to end gun violence in America.
Obama renewed his call for stricter gun laws following the Thursday massacre and expressed exasperation at the frequency of mass shootings in the U.S.
Visibly frustrated, he offered condolences to the victims of the mass shooting after the rampage, but he added that "our thoughts and prayers are not enough" to stem an epidemic of mass shootings in the United States.
Having now spoken after 15 such senseless killings during his administration, Obama again called for "common sense" legislation aimed at preventing gun violence, and he criticized opponents of past initiatives he has pushed.
"Each time this happens, I'm going to bring this up," Obama said during emotional remarks in the White House press room.
Faculty, staff and students brought flowers to a makeshift memorial as they returned to the Roseburg campus Monday for the first time since the shooting.
In northeast Portland, members of the Oregon chapter of Moms Demand Action for Gun Sense in America and the Everytown Survivor Network, gathered Saturday afternoon at Alberta Park to make condolence cards for the UCC community. The event also served as a chance to make calls to Congress to ask for further concrete action to prevent gun violence.

Portland Community College students and staff are also banding together to express support to those affected by the shooting. On Wednesday, Oct. 7 between 5 p.m. to 7 p.m., the PCC community and public are invited to upcoming vigils, planned on each of the PCC campuses.