Portlandia Birthday Bash
10/6/2015, 4:29 p.m.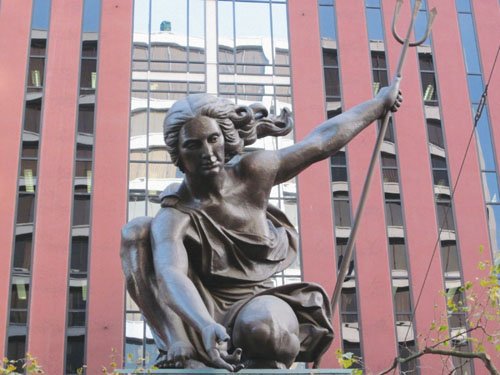 Portland's famous copper statue is turning 30 years old – and you're invited to help celebrate, Thursday, Oct. 8 from noon to 1:30 p.m. at the Standard Insurance Plaza across from the street from the statute at 1120 S.W. Fifth Ave.
Rose Highbar from Wisdom of the Elders will provide a Native blessing, and Storm Large will sing "Happy Birthday" to the copper goddess with students from Chapman Elementary School. Other festivities will include games, photo opportunities and '80s music. Refreshments will be served
The Portland Building's architect, Michael Graves, had suggested a statue of Lady Commerce from Portland's city seal as part of his design for the Portland Building; Raymond Kaskey won the $198,000 commission and named the sculpture "Portlandia."
Upon her completion in 1985, Portlandia was shipped by rail, from Maryland to Oregon, in eight pieces. After being reassembled in a local shipyard, she rode by river barge and truck to her final destination, welcomed by 10,000 Portland residents along the riverbank, streets, and bridges.