New Leader for Providence
Executive picked from nationwide search
10/12/2015, 11:07 a.m.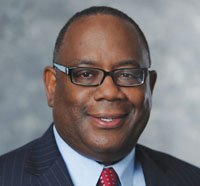 Providence Health Plan has named a top black healthcare executive to lead its Portland and Northwest operations as chief executive officer.
Mike Cotton comes to Providence from Humana Inc., in Louisville, Ky., where he served as vice president and chief operating officer for Humana's dual eligible and Medicaid programs and was responsible for the management and operations of the company's Medicaid and state-based contract programs.
"Our nationwide search for a leader whose vision to transform health care while keeping the needs of our members a top priority led us to Mike," said Dr. Rhonda Medows, executive vice president for population health with Providence Health & Services, in a statement announcing the hire on Monday.
Cotton will begin his new duties later this month, brining more than 25 years of experience leading health plans, growing membership, successfully overseeing risk arrangements and serving members through a variety of care models, Providence officials said.
Prior to joining Humana, Cotton held executive management roles with Evolent Health and Alere Health, two leading population health firms in Atlanta, and was a world-wide partner and market leader for Mercer Consulting. In addition, Cotton has led provider sponsored health plans affiliated with University Hospitals Health System and Premier Health System.
"I am excited to lead the Providence Health Plan team and to become a member of the greater Providence Health & Services family," Cotton said. "Throughout my career, I have learned that serving members is an incredible responsibility. I am delighted to join Providence where superior customer service is our goal. I'm looking forward to working with my new colleagues to continue helping our members live healthier lives."
Cotton graduated from Cleveland State University, earning an MBA in health care administration. Cotton also holds a certificate of executive health care management from Case Western Reserve University and completed his undergraduate studies at Franklin University and The Ohio State University in Columbus, Ohio.