Compelling Focus on Police Tactics
'Peace Officer' Documentary screens in Portland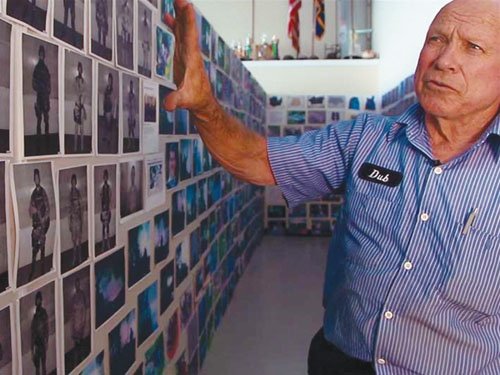 The best film I saw at this year's Full Frame Documentary Film Festival, "Peace Officer," is playing at the Living Room Theater in Portland for what I suspect may be a very limited run. Whether or not you think you are interested in the controversy of police violence and increased militarization, it's well worth making the time to see this first-rate analysis of the topic while it's in town, or at least to watch for an online release.
I learned at Full Frame that the film's co-directors, Brad Barber and Scott Christopherson (making their first feature film), weren't originally attracted to the subject, but rather to William "Dub" Lawrence, the relentless former Utah sheriff who forms the backbone of the film. Lawrence then led them on his own journey into police militarization, and it would be hard to imagine a more compelling guide into a topic about which focused attention and accountability is hard to come by.
When Lawrence's son-in-law Brian Wood was caught in a police stand-off after assaulting Lawrence's daughter, Lawrence assured Wood's parents that they could trust the police to handle the tense and dangerous situation with care. Then Lawrence watched in horror as Wood was killed by a member of the same SWAT team that Lawrence himself founded back in the 1970s.
For a time Lawrence held onto hope that the police would make sense of what happened. When that didn't happen, he fought to obtain access to the evidence himself and launched his own investigation into what appeared to him to be a homicide. Drawing on decades of experience as a police investigator, Lawrence's painstaking and obsessive inquiry into the incident caused a major shift in his thinking about law enforcement, from trust to alarm.
The film takes us on that journey, as Lawrence helps us sit with the question of how it makes sense for a small army of heavily armed officers to provoke a stand-off with a troubled man who is sitting in his parked truck outside his own home and has threatened only himself with the gun in his hands. Lawrence's growing concern about the increasingly violent responses of police in making arrests and serving warrants using aggressive no-knock search policies lead him to lend his particularly dogged investigation skills to several other cases of violent police confrontations, including one in which a half dozen officers dressed as civilians stormed a man's house to serve a warrant at night. The latter incident provoked a bloody confrontation that left the man (a veteran who claimed he was reacting to a perceived home invasion) and several officers wounded and one officer dead. The object of the search? A basement marijuana grow, with no evidence that the homeowner had sold or intended to sell any.
Since the 1970s, SWAT team raids have increased in the United States by an estimated 15,000 percent, according to one of a handful of very helpful analysts interviewed. The film offers some illuminating background about how we got here, mostly via the so-called war on drugs. Fueling Lawrence's concern about an increase in militarization that has gone largely unexamined is the sacred trust that he believes officers owe to the public, which he sees getting lost in the escalation of assault weaponry and military gear that has become so prevalent.