'This Ain't Yo Mama's Civil Rights Movement'
Welcoming a new generation of activists
Rev. Aundreia Alexander | 10/22/2015, 3:36 p.m.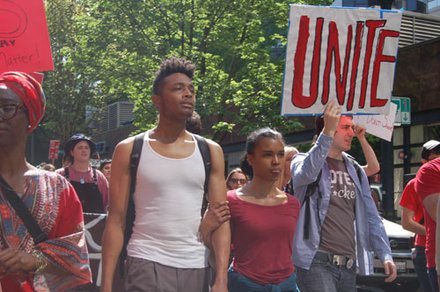 The day after the Aug. 10 anniversary of Michael Brown's death, I was arrested along with more than 50 other protesters outside of the Department of Justice in St. Louis in an act of civil disobedience.
As I shared a cell with 15 other women, I was captivated by a t-shirt worn by one of the women that said, "This Ain't Yo Mama's Civil Rights Movement."
I wasn't born when Rosa Parks inspired the longest sustained act of protest of the 20th century after she was arrested for not moving to the back of the bus in Birmingham, Ala. I have watched the multi-shades of gray film clips from the era and wondered what role I might have played in it. Would I have been one of those on the front line or remained on the side? If I did participate, what would have been my limits? Would I continue protesting after being beaten, bitten by dogs, or being spit on and pummeled by rocks thrown by racist observers?
My short stint of seven hours in a holding cell did not solve this backward reflection for me and frankly, I think different circumstances and historical contexts make the analogy an exercise in futility. I have, however, participated in and reflected on conversations that compare the Civil Rights Movement of the '50s and '60s with the current Black Lives Matter Movement.
I think there are many similarities. Both are led by young revolutionaries fed up with an unjust governmental system that diminishes the humanity of black people. Both challenge the status quo that fails to live up to the promise America made to be "one nation under God with liberty and justice for all." Both are fueled by the senseless deaths of black people killed with impunity and no accountability.
A more complicated comparison is the role of the faith community in both movements. The reality is that members of the faith community have played an important role in both. Houses of worship have served as sanctuary and training facilities for protesters in both. For both faith leaders have stood in prophetic witness and spoken out against injustices even when challenged by their own ecclesiastical leadership. The faith community has been intricately involved, with a rather large presence but small in numbers. The purpose of Dr. Martin Luther King Jr.'s famous "Letter from a Birmingham Jail" was to respond to and chastise the Christian community for its inaction in the face of injustice.
The Civil Rights Movement was grounded in a patriarchal structured transactional style of leadership with a dominant figure serving as the face and voice of the movement. A big and welcomed difference is that the Black Lives Movement is a "leaderful" movement with several faces and voices. Also many of those on the frontline and in leadership roles are LGBTQ women who are "unbossed and unbought." Their voices are not quailed or subordinated to men.
Despite the debate, it is my hope that we keep our eyes on the prize-- justice for all. Mass incarceration is the greatest human rights crisis of this generation. Both Democrats and Republicans agree that it is a problem, but none of the many conferences and conversations have led to solutions. For certain, however, reforming policing at the local level is one way to turn the tide.