Challenging Expectations
Youth and police meet up for unity breakfast
10/27/2015, 4:55 p.m.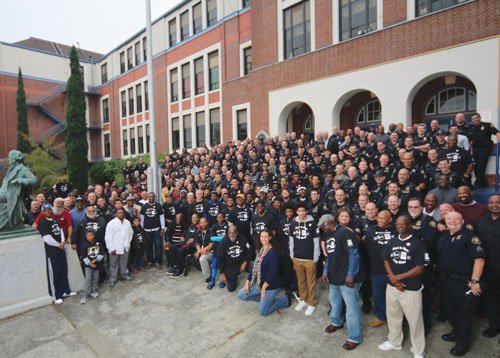 A renewed partnership between African-American students and Portland Police is giving a large contingent of youth and officers an opportunity to build on something positive and learn more about each other.
Over 100 police officers and over 100 students and their adult mentors of color from across the city came together on Saturday to break bread and hold discussions over breakfast at Jefferson High School in north Portland.
The organization that brought them together, the Boys to Men program of Portland, started off as a mentorship program just over six years ago. The program quickly expanded to several schools, and this breakfast allowed young males from across the city to unite in one place.
The gathering gave students a personal connection to law enforcement during an era when tensions between police and young people of color have risen across the country, especially after the shootings of unarmed black teens like Trayvon Martin and Tamir Rice.
Officer Vince Elmore came up with the idea of setting up a meeting during a conversation with Portland Police Chief Larry O'Dea.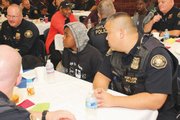 "We wanted to know how to improve relations between the police bureau and the black community," said Jefferson High School guidance counselor Donald Dixon. Dixon invited O'Dea and asked his members from the bureau to join Boys to Men for breakfast. Over 100 officers and the chief responded.
"I told the chief that the purpose is not to bash them today, or to point fingers at them or to blame them for what they do or don't do," said Dixon. "I told the chief that the purpose is to include them as men along aside other men to share their life, experiences, and knowledge to our boys and to one another."
Mayor Charlie Hales also attended and shared his thoughts as well.
"To watch our police officers mentor students at the Donald Dixon Boys to Men Breakfast was amazing," he said. "For everyone working to build the relationship between police and the community, and for everyone working for equity in our community: Pay attention to this. This was an empowering event."
The whole purpose of the Boys to Men program is for men to share their skills, experiences, talents, and wisdom with young men who are heading down a path that older community members have travelled.
"Though the men being older will probably have more knowledge and experience, they too can learn from the younger boys," added Dixon. This fit well with the goals of bringing the two communities – officers and black young men – together, so learn more about the world as the students enter adulthood.
Dixon explained that it was a unique experience and he hopes the students gain valuable insight, along with the officers, about the humanity of each other's groups. "It is no secret that there is a problem for the black male across America," said Dixon. "In light of the national attention toward the black male, especially black boys, we have an opportunity to address our black boys in the city of Portland with having a boys to men program and including our own Police Bureau."