Treats in Store for Animals, Visitors
10/27/2015, 4:58 p.m.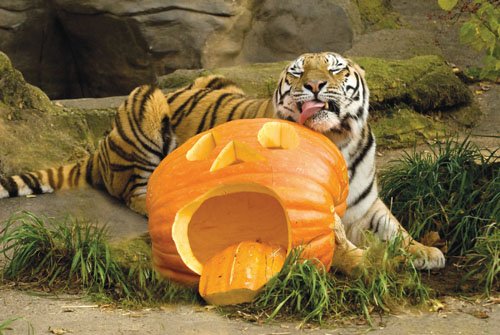 Trick-or-treaters can fill their bags with goodies and learn about wildlife Saturday, Oct. 31, during "Howloween" at the Oregon Zoo. The event runs from 9 a.m. to 3 p.m. and is free with zoo admission.
"Howloween" aims to be educational as well as fun. Scavenger hunts and activities are themed to teach kids about animals around the world, and their habitats and adaptations.
Throughout the day, visitors can watch the zoo's enrichment team provide animals with holiday-themed treats like jack-o'-lanterns stuffed with snacks.
Guests can also say happy birthday to the zoo's Amur tiger, Mikhail, born on Halloween in 1998. Mikhail, looking appropriate for the season in his customary orange and black stripes, will receive holiday-themed enrichment items designed to encourage his natural behaviors. This is especially important, keepers say, to help keep the 320-pound cat active as he ages.