Soccer Returns to PCC
Teams suit up for men and women
10/28/2015, 4 p.m.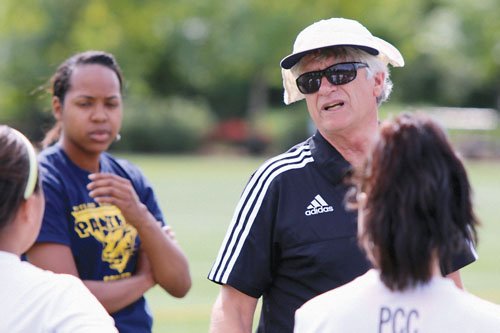 Walter Arevalo is the center of attention as soccer practice gets underway.
Arevalo welcomes players to the artificial turf field next to Portland Community College's Rock Creek Campus, handing each their blue-and-white jerseys, white shorts and multi-band long socks with impressive skill and swiftness. It's made a bit harder amid the playful shouting and general craziness that comes with corralling 25 college students for a team photo.
"It's part of the administration skills," he said with a shrug and smile.
It's not any team photo day. The day signifies the reboot of PCC's new intercollegiate men and women's soccer teams, both competing in the Northwest Athletic Conference this fall.
The college announced this past spring that it was bringing back soccer and held a series of tryouts in June. Arevalo was named the first men's coach while respected former Astoria High School boys coach Bill Patterson was picked to lead the women.
PCC briefly sported intercollegiate teams in the early 1990s with the men placing runner-up in 1994. From the late 1960s until the early 1980s the PCC club soccer team was a force among similar teams throughout the Northwest. The Panthers captured state titles in 1971, and 1977-81 and in 1982 beat Oregon State University 2-1 in the title club game, their last trophy.
Arevalo said he's excited by the potential of his Panthers, which has players from Paraguay, Congo, Hillsboro, Beaverton, Forest Grove, Milwaukie and others.
"I'm a competitor and a competitive coach so I don't want to say right now that we'll get to the finals, but it's pretty much the feeling of the players," he said. "I want to be in the finals and I believe we have a chance because we have good players."
Patterson, who has coached soccer for 20 years and is a philosophy instructor at the Rock Creek Campus, got intrigued by the sport because of his kids, who were top high school players in the 1990s. As they progressed through the ranks, he would watch the coaches and became interested in their craft.
Eventually he got licensed to coach soccer and was hired to be the head coach of the Astoria High School boys soccer team. Patterson, who coached two adult national championship amateur teams, led Astoria to six league titles and to the state playoffs every year during his 10 years there.
At PCC, Patterson hopes to build around talented core players with a sharp, crisp passing and possession style.
"I'm really encouraged by the season," Patterson said. "We have a group of committed players who want to get better and play as a team. They put their uniforms on with great pride. That's a great thing - to give these players who may not have the opportunity to play intercollegiate sports a chance to play. They get to represent their community, their school and themselves."