Hail Trinity and Concordia!
Church, school and college celebrate 125 years
9/1/2015, 2:59 p.m.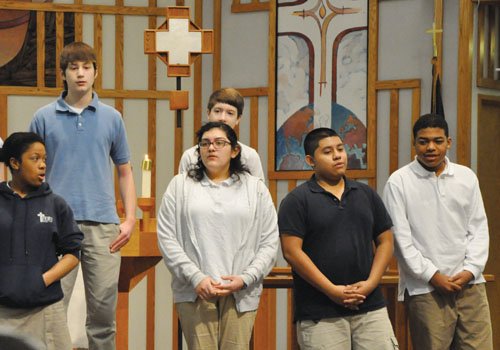 The weekend of Sept. 11-13 will start of a year-long celebration for the 125th anniversary of Trinity Lutheran Church and School and mark the 110th year of Concordia University, a trio of northeast Portland institutions serving a diverse community.
Special activities and festivities at Trinity Lutheran Church and School and the Concordia campus will offer the opportunity for the community to gather and reminisce. It's also an opportunity to recognize their shared beginnings -- Concordia began 1905 as Concordia Academy in the basement of Trinity Lutheran Church and School which was founded in 1890.
On Friday, Sept. 11 there will be two special chapels, tours, alumni choir practice, a Concordia soccer game, and visiting at the Concordia Ale House. The next day will start early at 9 a.m. at Trinity Lutheran Church and School with "The Luther Lap" a 2.28 mile walk/run with the Tiger Marching Band leading it off and ending with a final lap around the Concordia stadium cheered on by the Concordia cross country team.
After crossing the finish line alumni are welcomed to the rehearsal for the Sing Again Alumni Choir in the Concordia Fine Arts Building from 11 a.m. to 12 p.m. Everyone is welcome to take a step back in time with a walk through display of history in the Concordia library and of course there will be birthday cake for all at the end.
A Sunday service will accent the festivities at 10 a.m. on Sept. 13, and all alumni and friends are invited to enjoy the special guest speaker, Northwest District President Rev. Paul Linnemann. The Sing Again Alumni Choir will perform under the direction of retired music teacher, Dick Wrye. The service will be followed by a potluck picnic at Trinity Lutheran Church and School at 5520 N.E. Killingsworth.