Queen of the Segregated Tennis World
American Masters recounts the life of Althea Gibson
9/1/2015, 11:19 a.m.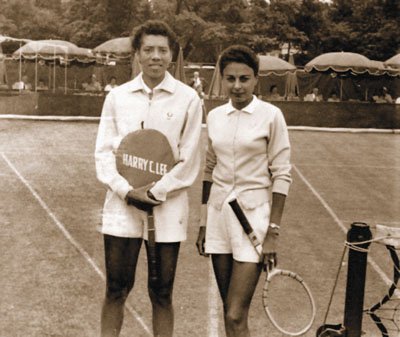 Don't miss the story of Althea Gibson, who emerged as the unlikely queen of the segregated tennis world of the 1950s. Her life is recounted in "American Masters: Althea," premiering nationwide Friday, Sept. 4 at 9 p.m. on PBS. An encore presentation of "American Masters: Billie Jean King" will follow the broadcast from 10:30 p.m. to midnight.
Rex Miller the director, says he began searching for Althea's story because of a photograph that hung on the wall of his childhood bedroom.
Taken in 1958, it shows two-brown skinned women, dressed in tennis whites, holding tennis rackets and standing on the front lawn of the Merion Cricket Club, a prestigious and highly restricted tennis club outside of Philadelphia. One woman was his mother, Millicent Miller. The other was Althea Gibson. In the background one can see a small score board that tells the tale of the match, a one-sided victory for Gibson.
"This was my mom's moment of tennis glory, a story I heard many many times and led me to take a look at the details of Althea's life, which I found more and more compelling as I peeled back the layers, which just kept coming," Rex Miller said.
Gibson's story traces the larger thread of African-American history, as she went from South Carolina cotton fields to the Harlem Renaissance, then back down to the Jim Crow South. She was a reluctant Civil Rights icon, crossed over from tennis to blaze a trail in golf, and then turned to show business to try to earn a living. All of this as a black woman in the 1950s, with no discernible support system and whispers about her sexuality trailing her.
For more information and a short trailer on this exciting and detailed historic episode of American Masters, visit pbs.org/wnet/americanmasters/episodes/althea-gibson/preview-the-film/3927.