Multicultural Night Market to Debut
Celebrating different cultures
9/8/2015, 4:33 p.m.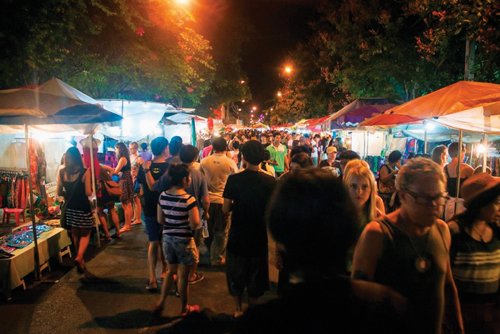 The first-ever Beaverton Night Market, a multicultural evening marketplace of international food and craft vendors, as well as cultural performances, debuts Saturday, Sept. 12 from 5 to 10 p.m. A pilot project by the city's Diversity Advisory Board, the market will be held at the south plaza of The Round, 12600 S.W. Crescent Drive, just off the Beaverton Central MAX stop.
The night market is envisioned as a vibrant, intercultural, family-friendly space, reminiscent of night markets around the world. Cultural exhibitors from many regions of the world represented in Beaverton will share arts and goods at the event. Visitors can sample delicacies from East Africa, Lebanon, Mexico, El Salvador, Cambodia, Korea, and Hawaii. Handcrafted items and merchandise will be for sale from Latin America, Southeast Asia, Eastern Europe, Japan, and the Pacific Northwest.
Stage performances will include Japanese taiko drummers, traditional Mexican dance, local Italian indie-rock headliner Mbrascatu, and more. While this is a one-day pilot event, the goal is to create a regular season night market to foster cross-cultural exchange, create economic opportunity for emerging ethnic food and craft vendors, and showcase cultural traditions.
Admission to the Beaverton Night Market is free.