Stepping Up for a Cure
Sistahs support breast cancer survivors
9/8/2015, 4:51 p.m.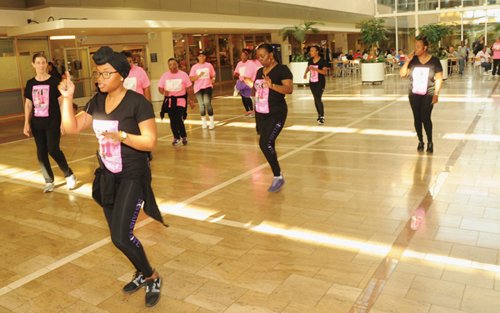 A group of local African-American women are starting a tradition at the upcoming Susan G. Komen Race for the Cure by opening up next Sunday, Sept. 20 event with a dance show.
Sistahs4Life brings black women from around Portland together four days a week at the American Red Cross, 3131 N. Vancouver Ave. to exercise and develop life-long fitness habits that can extend the lives of its participants, all of whom are breast cancer survivors.
"We've all been touched in some way by breast cancer and we will be racing in support of Glynnis Polk, a survivor and member of Sistahs4Life who joins us regularly to line dance," said Charletta Malone the president and instructor at the organization.
The group hopes to recruit 20 new walkers to join the Race for the Cure and help raise money for Komen's chapter for Oregon and Southwest Washington.
In the last 23 years, the local chapter has funneled nearly $19.2 million into programs that prioritize the importance and improvement of life quality for breast cancer patients and survivors, helping women get screenings and emphasizing the value of early detection along with providing assistance for access to treatment. Another $11.5 million has been dedicated to cutting edge research funding locally.
One of the signature fundraisers each year is the Race for the Cure. The race starts and ends at Tom McCall Waterfront Park, downtown. For more information, visit Sistahs4Life.com.