Police Custody Death Settlement
Freddie Gray family reaches $6.4 million deal
9/9/2015, 3:19 p.m.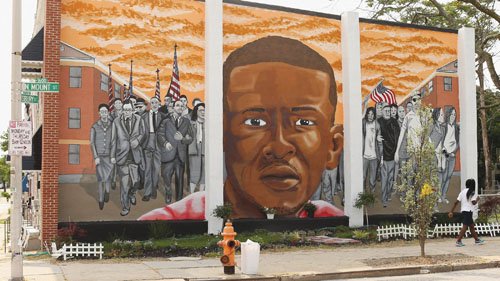 (AP) — The parents of Freddie Gray reached a tentative $6.4 million settlement with the city of Baltimore Tuesday, nearly five months after their 25-year-old son was critically injured in police custody and later died, sparking days of protests and rioting.
The deal appeared to be among the largest settlements in police death cases in recent years and happened just days before a judge is set to decide whether to move a trial for six officers charged in Gray's death.
Gray's spine was injured April 12 in the back of a prisoner transport van after he was arrested. Gray, a 25-year-old black man, died at the hospital a week later. In the aftermath, Gray became a symbol of the contentious relationship between the police and the public in Baltimore, as well as the treatment of black men by police in America.
The settlement still needs the approval of a board that oversees city spending. That board will meet Wednesday morning.
"The proposed settlement agreement going before the Board of Estimates should not be interpreted as a judgment on the guilt or innocence of the officers facing trial," Mayor Stephanie Rawlings-Blake said in a news release. "This settlement is being proposed solely because it is in the best interest of the city, and avoids costly and protracted litigation that would only make it more difficult for our city to heal and potentially cost taxpayers many millions more in damages."
The settlement does not resolve any factual disputes, and expressly does not constitute an admission of liability on the part of the city, its police department or any of the officers. The settlement has nothing whatsoever to do with the criminal proceedings, the press release said.
All six officers are charged with second-degree assault, misconduct in office and reckless endangerment. Three of the officers face a manslaughter charge and a fourth officer faces the most serious charge of all, second-degree "depraved-heart" murder. Three of the officers are black and three are white. Their attorneys have asked the judge in the case to move their trials out of the city. The hearing is set for Thursday.