Sickle Cell Walkathon Saturday
9/9/2015, 5:02 p.m.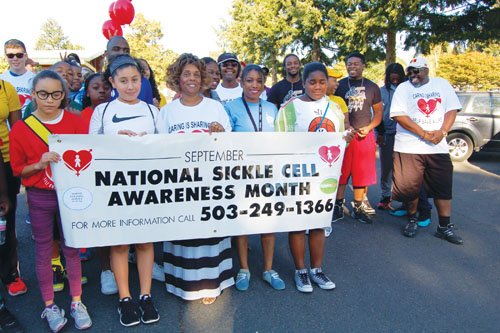 The Sickle Cell Anemia Foundation of Oregon will host its third annual walkathon Saturday, Sept. 12 in northeast Portland.
The walk is imperative to fundraising for an organization that fights a unique disease that predominantly affects people of African descent around the world, commonly known as sickle cell anemia. The genetic disorder occurs relatively rarely, but is chronic, cannot be cured, and can lead to extreme pain, blindness, and even death if left undiagnosed and untreated. The disease comes from a genetic trait that keeps many African-descended people immune to strings of malaria, but can, in the right conditions, mean that the carrier does not have enough healthy red blood cells to carry sufficient oxygen throughout the body.

The walk is a chance to learn more about the disease and bring awareness to the community about the symptoms, signs, and treatment for those afflicted. The year's event has community sponsors, with Safeway having donated cakes and water, and Cannon's Rib Express donating chicken, greens, and macaroni n' cheese. The Alberta Market has graciously donated fried chicken wings, and Self Enhancement, Inc. brings forward 20 to 40 youth to participate. The House of Prayer Church, Martin Cleaning Services, Bethesda Christian Church, the American Cancer Society, and the American Red Cross have also partnered with several local families to fight sickle cell and bring attention to its risks.
The annual 5k walkathon will start at The House of Prayer, Morning Star Baptist Church's fellowship hall at 4927 N.E. 55th Ave. Registration will take place at 8 a.m. and the walk will begin at 9 a.m. Registration is $24 for pre-registered walkers and $20 for senior citizens. For more information or to pre-register, visit sicklecellanemiaportland.com.