August in September
Local students explore black experience
9/15/2015, 2:31 p.m.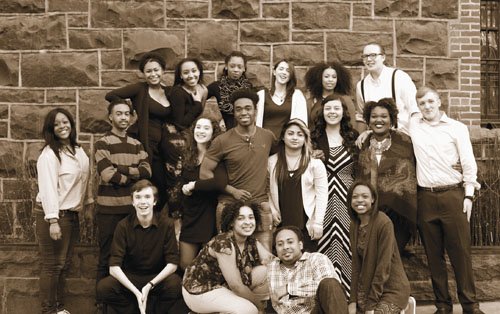 With a trip to New York, cash prizes, and scholarship opportunities on the line, the August Wilson Monologue Competition could be the launching pad for Portland's next great thespian. This year, in addition to presentations at schools and nonprofit organizations, the August Wilson Red Door Project has teamed up with Multnomah County Library for a series of September events.
Called "August in September," this series of interactive workshops will give students the opportunity to meet local actors, learn about August Wilson, and get more information on the life-changing competition that honors the great African-American playwright.
Competition participants study and perform monologues from Wilson's plays with the hopes of competing in the finals at the August Wilson Theatre in New York City. Throughout the process, these students receive guidance from professional actors and mentor directors.
Beyond cash prizes and the chance to perform on Broadway, the competition gives all participating students invaluable experience. Students engage with peers across the Portland area. They experience great friendship as well as a rigorous competition. In Master classes with professional actors, they immerse themselves in the themes, characters and language of Wilson plays in a safe, supportive, atmosphere. The experience enhances self-expression, leadership and public performance ability, skills that will serve them throughout their lives.
Wilson's work has become a valuable piece of black history. His plays explored the black experience in America and appealed to audiences across the board. He won two Pulitzer Prizes, as well as numerous other honors.
According to multiple news outlets, a film adaptation of his play "Fences" will be the latest of his works to get a national audience, with Denzel Washington directing and Viola Davis cast in the lead role.
Portland's August in September events include a series of interactive workshops that double as opportunities for local high schoolers to be a part of this historic nationwide competition. Teens can catch the series on Saturday, Sept. 19 at 12:30 p.m. at the Midland Library, 805 S.E. 122nd Ave.; Tuesday, Sept. 22 at 6 p.m. at the Kenton Library, 8226 N. Denver Ave.; and Tuesday, Sept. 29 at 6 p.m. at the Albina Library, 3605 N.E. 15th Ave.
For more information, visit multcolib.org/events or reddoorproject.org/awmc.