Finally Teammates
Football at Stanford puts Scarlett brothers on same team
Paul Marshall | 9/15/2015, 2:29 p.m. | Updated on 9/16/2015, 9:35 a.m.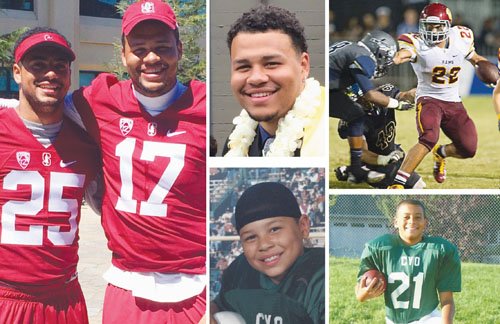 Brennan and Cameron Scarlett have become used to calling each other many things: brother, scholar, athlete and sometimes opponent. Now they can add one more title to that list, teammate. They have joined forces for the first time in their school careers to play football at Stanford University.
Only four years apart, the brothers went to the same Portland schools. They first attended Holy Redeemer School and then Central Catholic High School. While not on the same team, they have always remained in each others' lives, whether playing video games, basketball or arguing over whom was taking the tougher math class. The brothers have maintained a healthy sibling relationship through competition.
"They would always find something to compete about and see who got it right. It's entertaining to watch until it gets annoying then we'd have to say something," says Paul Scarlett, the father of the two men and a witness to the many of the brotherly competitions.
Brennan Scarlett, the oldest sibling, emerged as one of the top football recruits in the nation in 2011 coming out of Central Catholic. After a decorated prep career, he decided to sign with the University of California at Berkeley.
At Cal, he found success both on the football field and in the classroom, but injuries limited his participation to 17 games. Back in Portland, his brother Cameron emerged in the football spotlight as he helped lead Central Catholic to win back to back state titles. While arguably similar in comparison by accolades, both players carved out their own identity through differing positions and personality.
"If Cameron makes a big play, he most likely will point to the sky or to his family. If Brennan makes a big play then he may not gesture as big," their father said.
In addition to their gridiron accomplishments, both players are also accomplished in the classroom and for giving back to the community.
Steve Pyne, the head football coach at Central Catholic has witnessed the impact of the Scarlett brothers on and off the field.
"Both have been stewards of their gifts in the classroom, community and service wise. It was great of our school to be able to have had them," Pyne said.
Knowing how productive Cameron was on offense and how dominate Brennan was on defense their former coach expects the brothers will be a big asset playing on the same team for Stanford.
The unification was only made possible because Brennan decided to redshirt his junior year at Cal after breaking his hand. By deciding to forego a year on the field, he was able to preserve another year of football eligibility. Then a knee injury at Cal caused him to further evaluate his prospective plans.
"I got hurt last year in the fifth game of the season. It was during that time that I started to think about what the next move was," he said.
Brennan would go on to graduate with a degree in business administration from the Haas School of Business at Cal. After graduating, he looked to further his academic goals and a master's degree.